Is there anything better than good food? As with most questions I ask, here comes my own answer. The only thing truly more enjoyable than good food is good food on the road. Travel just seems to make food taste that much better, and good food taste sublime. My girlfriend and I had the wonderful opportunity to travel to Spain in October and I would be remiss not to mention a few of our foodie highlights. A multi-destination trip, we landed in Madrid with the plan to then drive to Valencia with the final leg comprising of a train to Barcelona, from where we would fly home.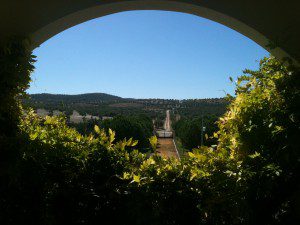 While I would normally take trains everywhere in Europe (they have such amazing public transportation), we took the chance to rent a car in Madrid and drive to Valencia. The drive did have an alternate purpose, as it allowed us to take a small detour toward Toledo and then into a little town called Yepes. The point? I had exchanged emails before our trip with a man named Juan Carlos, the PR contact in the USA for a Grupo Bodegas Olarra. The group has a medium-sized vineyard and winery that is placed perfectly, 45mins outside of Madrid toward Valencia, Casa del Valle.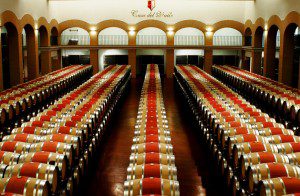 We didn't exactly know what to expect when pulling up to the gate as we arrived at Casa del Valle. All I did know for sure was that somebody was supposed to meet us and everything else was a big question mark. We were greeted by a man name Jose Fuentes and from there I knew the rest of the day would be fine. We instantly become friends with Jose, the vineyards marketing head and tourism liason, as he took us on a tour of the vines. We found out that the vineyard does not actually produce any 'Spanish' grapes, but instead a selection of Bordeaux varietals including Cabernet, Merlot, Syrah and Sauvignon Blanc. After spending some time walking the trellises, we headed into the winery area to see how the grapes become wine. From the press to the barrel room, Casa del Valle was a fascinating walk through the entire wine making process, with Jose the absolutely perfect host, letting us know all about the various processes involved in the centuries old art.
The coup de grace of the day was obviously going to be the tasting room, and we were not disappointed. We sat to enjoy two different single varietal wines, a smooth drinking young Cabernet and a peppery smelling, flowery Syrah. Then a truly special wine made it's presence known, Casa del Valle's estate vintage blend was poured in our glasses and just by smelling it we knew it was something different. Before we knew it, we had drank and talked away nearly 3 hours, enjoying chorizo, manchego and crackers with our Spanish born French wines.. An unforgettable experience and a new friend made. What more can you ask from food and travel?
-bryan
If you are ever in the Madrid area, I would highly encourage you to contact Casa del Valle for a vineyard tour. A must see for wine coinneseurs, afficianados and quaffers alike. Special thanks to Jose Fuentes for making the day so memorable. If you're interested in touring or tasting, please visit Casa del Valle online or on Facebook.