Violet, you're turning voilet! What is bite-sized, bright blue, round and sweet? Give up? Probably not, as there are few items on earth that match this description. You've guessed it, it's a smurf. Well, maybe not, but other than smurfs, could there be a more perfect treat for kids than fresh blueberries? Put your greasy hand down Chester Cheetah. Nobody wants your orange filth.
Blueberries are delicious, in fact you can probably fool little kids into thinking they're candy (well, almost). Who cares what they think anyhow, you're the parent! Get in there and raise healthy kids. Blueberries are powerful little packets of nutr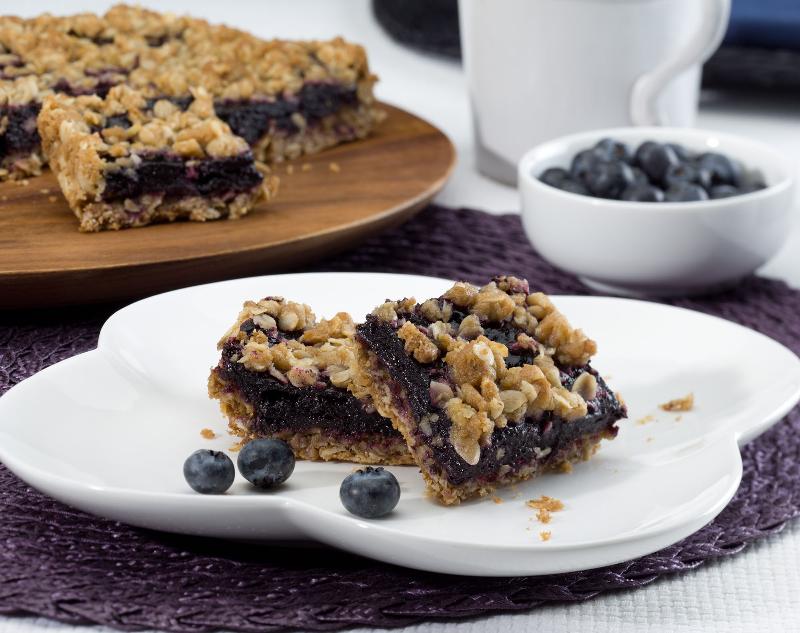 ition. As well as being a rich source of vitamin C and other key vitamins and minerals, blueberries also come packed with natural antioxidants that have been found to boost the immune system to help prevent illness as well as preserve vision and promote brain health.
Why wait for summer? Fresh firm and flavorful blueberries from Chile await you in the produce section as we speak. Try baking with Chilean blueberries and get the kids cooking. Yes, nothing beats a chocolate chip cookie, but sometimes vitamins and minerals have their place in the land of sweets as well.
BLUEBERRY OATMEAL CRUMBLE BARS
Filling:
3 c fresh or frozen blueberries
1/2 c sugar
2 T orange juice
1 T cornstarch
Crust & crumble topping:
2 c old fashioned rolled oats
3/4 c flour
3/4 c brown sugar, packed
1 1/2 t grated orange zest
1/4 t baking soda
1/4 t salt
8 T (1 stick) unsalted butter, melted
Line a – inch square pan with parchment paper. Preheat oven to 350 degrees
For filling: In a medium saucepan, bring to a boil over medium-high heat the blueberries, sugar, orange juice and cornstarch, stirring often until mixture is thick, about 15 minutes. While filling is cooking make the crust and crumble
For crust and crumble:
In a medium bowl, mix together the oats, flour, brown sugar, orange zest, baking soda and salt. Add melted butter to blend well. Reserve 3/4 cup for topping, and press the remaining mixture to baking pan, pressing firmly to form a crust. Spoon over the filling in an even layer, sprinkle with reserved topping. Bake for 30 to 35 minutes. Cool before cutting into 9 2-inch squares.
– photo and recipe courtesy of Chilean Fresh Fruit Association
-bryan
For more fresh blueberry inspirations please visit www.ChileanFruitOnline.com