The Big Apple Barbecue Block Party will take place at Madison Square Park and its surrounding streets on June 8 – 9 with food, music and grilling classes hosted by Kevin Kolman.  Cue experts including Kenny Callaghan, Joe Duncan and fifteen others will be participating.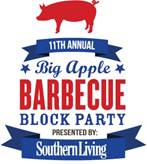 Admission is free to the event, cooking demos, culinary discussions and music performances unless noted otherwise. Food starts at  $9 per plate.
For more information, click here.