Living in Barcelona, we eat tapas almost daily. They're offered at least on every corner; some are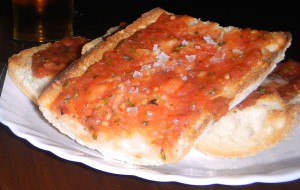 good, some okay and just a few are truly exceptional like those at el Atril (Carrer dels Carders, 23, 08003 Barcelona, Spain).
Their pan con tomate is the best in this city. It's a tapas always served whether or not it's on the menu. The tomato is not chopped or sliced; instead it's cut in half and rubbed onto the bread (along with garlic and other spices) creating a light, saucy piece of toast. When done right, pan con tomate is a divine addition to every meal. NOTE: this is coming from a girl who likes a crisp but chewy piece of bread and lot of garlic with my tomato!
Their patatas bravas — fried potatoes in a warm sauce — had a perfect flavor and texture. Not an overcooked, hash-browney style, but simply salty potatoes with an exceptional sauce.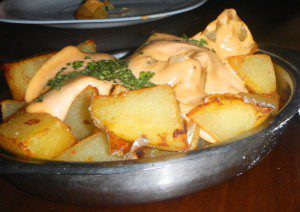 Tapas is a lot of bread, a lot of cheese, a lot of sauce… minimal vegetables. Pimientos padron are about the only bit of green you'll find, as such, I am always craving them! These little peppers — sizzled in oil then salted — aren't spicy (no me gusta comida picante!). Atril's were large, fresh and perfect – the best I've ever had!
We ended this tapas meal with something from Atril's full menu, a taste their perfectly cooked duck with the mango chutney. Delicioso!
Contributed by globe-trotting Andrea Butler of BestWorldYet.com.