We visited Naples twice on our Amalfi Coast Journey; once for a night on the way there, as well as an impromptu pizza-stop on the way back.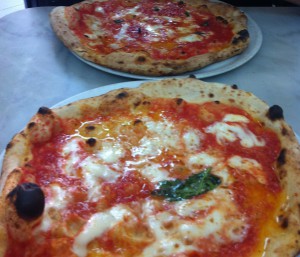 There are plenty of pizza places to choose from in Naples, but there's one that was recommended by all of the locals as the best pizza in Naples. L'Antica Pizzeria da Michele Via Cesare Sersale, 1 / 3
80139 Napoli
Like many of the pizzerias in Naples, Da Michele's is a family run spot with traditional methods, resulting in that perfectly chewy pizza crust Naples is known for, that have been passed down for generations. The history of this sacred, Neapolitan Pizza temple dates back to 1870 with the Condurro family. Michele Condurra mastered the family's traditional art with a few of his own secrets methods for baking and kneading that dough!
Grandfather Michele's tradit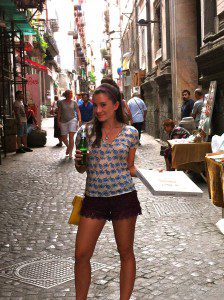 ions have lived on for generations, his predecessors remaining faithful to his words: "There are only two types of Neapolitan Pizza, the 'Marinara' and the 'Margherita' and no 'junk' should be used in preparing pizza, because it could only alter its world famous genuineness and taste."
During lunch and even throughout the day, a long line of hungry Napolitanos wait for hours, covering the streets outside of Da Michele's. You are given a number (time to learn to count in Italian!) and left with the sweet smell of sauce and cheese baking from the old oven that greets you from the front door. The relaxed environment of Da Michele's makes you feel as if you're in your Italian Grandmother's kitchen. Family style seating crammed into a few, small dining areas.
You have two choices: Margharita and Marinara. Sinking my teeth into the Margharita was sensational. The perfect amount of fresh mozzarella, but not too much to overpower the taste of their famous sauce. Each ingredient sings in perfect harmony, but the show steal-er is the dough. Da Michele's traditional method creates an unbelievable texture that nothing compares to. His pizza is incredible beyond words. The BEST in the WORLD.
Contributed by globe-trotting Andrea Butler of BestWorldYet.com.