This year gathering of food editors and chicken industry people took place in San Antonio (TX) in conjunction with the 48th National Chicken Cooking Contest. (The winner Brigitte Nguyen won $50,000 for her Chinese Chicken Bugers with Rainbow Sesame Slaw).
Again we indulged in fried chicken — not for a meal — but for a mid-morning snack along with coconut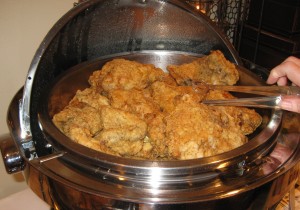 cream pie!  (I keep telling you it's a tough job eating for a living … but someone's gotta do it!)  The chicken was good, but — in my humble opinion — Willie Mae's Scotch House fried chicken that we sampled last year at our  "chicken" meeting in New Orleans was a bit better.
Both were delicious (as who frequently indulges in fried chicken for a 10 am snack?) but the chicken that Kerry Seaton (Willie Mae's great granddaughter) made for our group was a little bit better.
If you're in San Antonio, give the place a try.
Earl Abel's
1021 Austin Highway, Ste 175
San Antonio, TX
210-822-3358