TIDBITE
April 16, 2008

Fried chicken so good that when it was served last week at a Food Media Seminar in New Orleans, LA (or NOLA as it's called) there wasn't even part of a piece left on the serving trays during a midday break. There were — though — many editors looking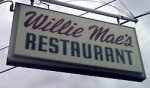 for more.
That's how delicious Willie Mae's fried chicken is.
Knowing that many foodies are heading to New Orleans this week for the International Association of Culinary Professionals convention, I wanted to post this info quickly so those visiting NOLA could try this incredible fried chicken while there.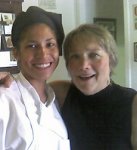 I learned about Willie Mae's last week from her great granddaughter Kerry Seaton who recently decided to try ""to keep the legacy and tradition going" forgoing her plans for law school.
Katrina struck Willie Mae's with "4 feet water that set for 3 to 4 weeks," said Kerry Seaton. But — thanks the incredible efforts of volunteers from the Southern Foodways Alliance — the restaurant is open again.
Willie Mae's Fried Chicken stood out as the favorite chicken we had ate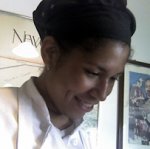 (and we had chicken at least once at every meal) at that seminar organized by the National Chicken Council and the U.S. Poultry & Egg Association.
Willie Mae's Scotch House: 2401 St. Ann Street (off New Orleans Street) New Orleans, LA; open only from 11 am to 3 pm; 504.822.9503.
8 Comments on "Best Fried Chicken in America: NOLA's Willie Mae's Scotch House"
melanie young Says:


One of Willie Mae's most cherished possessions is the James Beard Award medallion the Scotch House received for being an American Classic. When authorities found her sitting on the curb outside her destroyed restaurant and home, her medallion was one of the few items she had taken with her.

Ralph Sciarappa Says:


The directions are, I believe, a lil off. I'm not sure what street New Orleans Street might be, but perhaps y'meant Orleans Av? which St Ann runs parallel to one block toward the lake. The cross street is Tonti which may be more helpful than giving a parallel street.

Bonnie Tandy Leblang Says:


Thanks for the update. You're right St. Ann is parallel to New Orleans Street — and it's on the corner of Tonti and St. Ann. Just FYI — our cab driver Lucien (who we then invited to join us for fried chicken!) was able to find it from the original address I posted.

Bonnie Tandy Leblang Says:


My friend Miriam Rubin — just forwarded me this link to a blog — who posted Miriam's story about our trip to Willie Mae's.

Dawn Ellis Says:


In new orleans metro area; wonderful, wonderful, wonderful.

Best Fried Chicken…This Time San Antonio's | Bite of the Best Says:


[...] but someone's gotta do it!)  The chicken was good, but — in my humble opinion — Willie Mae's Scotch House fried chicken that we sampled last year at our  "chicken" meeting in New Orleans was a [...]

travel Says:


Nice site! Thanks for the great post

travel Says:


Nice site! thanks for the great post… People should read this.
Leave a Comment
Posting Policy
Bite of the Best encourages our readers to comment on and review any products that we write about. Please express your opinions in a mature and civil tone of voice. We will not post rude or otherwise inappropriate material on Bite of the Best. We look forward to your comments and reviews!