I recently headed to Becco for the drink that the adorable manager had promised me (well, that's another story!) and enjoyed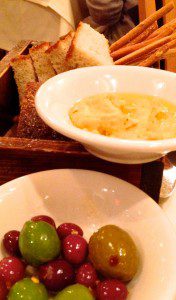 an unhurried nibble before my 7 pm curtain of the Kinky Boots a block away at the Al Hirschfeld Theatre on 45th.
If you've missed it: Kinky Boots is a tale of Charlie Price, who inherits his family's failing shoe factory and opts to save it by producing stiletto-heeled, brightly colored, knee high boots for men who dress like women with toe-tapping music by Cindi Lauper.
Nibbled on three types olives and crisp bread sticks dunked in their house made irresistible white bean dip served a monkey dish (that's food service speak for small dish).
Next I tried the simple, lightly dressed Caesar salad ($7), followed by the delicately breaded and crispy baked shrimp (Gamberi 'al Forno, $14) served with Lidia's spicy tomato sauce.
It was a perfect amount of food without rushing before heading to see that amazing award-winning cast dancing and singing in their kinky boots. So if you have a 7 pm curtain and stop at Becco, I suggest having small bites and not trying to down a complete meal as that ends up in ingestion as you're way too rushed.
Becco
Hell's Kitchen
355 W 46th St
New York, NY 10036
(212) 397-7597