Planning dinner before seeing Tom Hanks in Lucky Guy, I recalled a wonderful meal on Theatre Row that I thought was at Becco. I realized my horrid mistake as soon as I walked in the door to this tourist-trap factory (think the now defunct Mama Leone's) with the frenzied rush to get us in, serve and get us out.
I was still taking my coat off and settling in when the waiters handed us the menus, served water, olives, bean dip and basket filled with fresh bread and breadsticks and asked for our drink order. (Those wonderfully salty, crispy thin morsels were the best part of the meal!). We had arrived at 5:30 planning to rel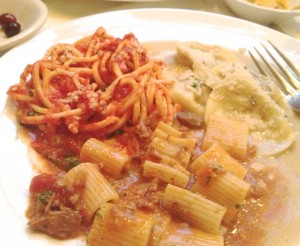 ax over a bottle of wine and a leisurely dinner before heading to the theatre. This meal was anything but relaxed, the food plebeian.
In the mood for pasta, I sampled their Sinfonia di Paste — or symphony of three chef's choices ($22.95) along with a salad. I chose the Insalata Cesare with the dressing on the side as our dining neighbors — about 6-inches away —  had warned us of the overly drenched salad!
Served tableside was the ordinary spaghetti with tomato and basil, mushroom ravioli with truffle butter and sage, and rigatoni with veal bolognese and peas. The "all-you-can-eat" should have been a clue to the mediocre-at-best quality.
We —though — loved the amazingly talented Tom Hanks as Mike McAlary in a story about this the New York City tabloid columnist's rise, fall and rise again, ending in his coverage of the Abner Louima case, for which he won the Pulitzer Prize. Tom Hanks is as good on stage as in his films (something not true of other movie stars!), with an equally as skillful supporting cast including Maura Tierney, Christopher McDonald, Peter Gerety, Courtney B. Vance, Peter Scolari and Richard Masur, to name a few.
Skip Becco (go across the street to Orso, the place that had my memorable meal) – but don't miss Lucky Guy.
Becco
Hell's Kitchen
355 W 46th St
New York, NY 10036
(212) 397-7597