There are certain dishes that I've just never gone near. It's not that I won't eat them (I'll eat anything), it's that I'm not going to try and make it myself. Blowfish, for example.. if cut incorrectly, can kill you… so I'll leave dishes with that ingredient to the trained chefs.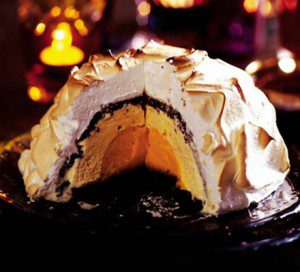 My home kitchen is a place for many experiments, but some creations just seem either to dangerous or like too much work! For me, desserts in general always seem a daunting task. There's so much mixing and measuring, kneading and rolling, crimping and icing. It can be such a tiring endeavor, that I often leave it to a restaurant's pastry chef. It's not that I won't make dessert; I've certainly been known to bake a batch of cookies or even flambe a banana to serve with ice cream.. It's just that when it comes to the complicated stuff.. unless it's a special occasion, it's just too much effort.
There is one dish in particular that I've never even considered, it's like a pastry chef's Mt. Everest (and I'm no pastry chef!). So, coincidence had it that I received an email with a recipe for this very dish. Though I have yet to climb this sweet mountain, I present the recipe here, to you, as a gauntlet… adventurous chefs apply.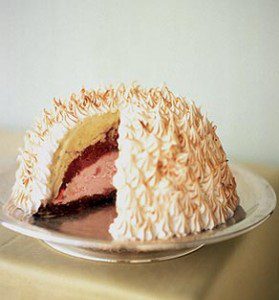 Baked Alaska Recipe
Courtesy of the Millennium Alaskan Hotel Anchorage
Cake
Nonstick vegetable oil spray
4 large eggs
1/2 c sugar
1 1/2 t vanilla extract
3/4 c sifted cake flour (sifted, then measured)
1 T poppy seeds
6 T (3/4 stick) unsalted butter, melted, cooled
Filling
2 quarts ice cream, softened (flavor of your choice)
1 quart sorbet, softened (flavor of your choice)
Meringue
6 large egg whites
3/4 c sugar
1/2 t vanilla extract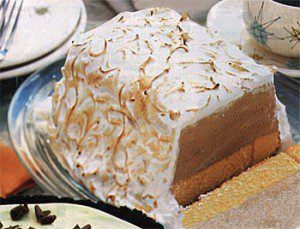 For Cake: Preheat oven to 325°F. Spray 9-inch-diameter springform pan with nonstick spray. Whisk eggs, sugar, and vanilla in large metal bowl to blend. Set bowl over saucepan of simmering water (do not allow bowl to touch water); whisk constantly just until mixture is warm, about 2 minutes. Remove bowl from over water. Using electric mixer, beat mixture until very thick and ribbons form when beaters are lifted, about 7 minutes. Add flour in 3 additions, gently folding just to combine after each. Fold in poppy seeds, then quickly fold in butter in 2 additions (do not overfold). Pour batter into prepared pan.
Bake cake until top is golden and toothpick inserted into center comes out clean, about 28 minutes. Cool completely in pan on rack. Remove pan sides.
For Filling: Line a 4-quart, 10-inch-diameter bowl with plastic wrap, leaving 8-inch overhang. Spread sorbet in even layer over bottom of bowl. Spread ice cream over sorbet. Place cake atop ice cream, pressing slightly to compact. Cover with plastic wrap overhang; freeze at least 4 hours or overnight.
For Meringue: Using electric mixer, beat egg whites in large bowl until soft peaks form. Gradually beat in sugar, 1 tablespoon at a time; beat until thick and glossy. Beat in vanilla.
For Finished Product:
Unfold plastic wrap from over cake at top of bowl. Invert dessert onto 9-inch-diameter tart pan bottom; remove plastic wrap. Working quickly, spread meringue over dessert, swirling to form peaks and covering completely. Freeze at least 30 minutes. (Can be made 1 day ahead; keep frozen.)
Preheat oven to 500°F. Place dessert on its tart pan bottom on heavy large baking sheet. Bake just until meringue is light golden, about 5 minutes. Transfer to platter. Serve immediately.
yield: 12 servings
This dish is a full commitment. And keep in mind that you will need tons of space in the freezer to do this properly. So either plan on it being freezer cold outside where you live (and leave it on the backstairs).. or eat accordingly to empty out the freezer! If you dare, I'd love to hear your stories.
-bryan