Mario Batali's long awaited Babbo Pizzeria e Enoteca recently opened in the Seaport District. We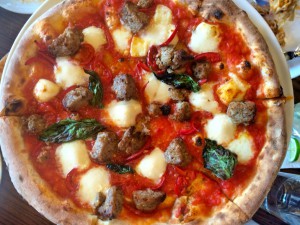 stopped in for lunch after riding the scenic Hingham ferry across Boston Harbor to Rowes Wharf, followed by a quick 10-minute walk on Seaport Boulevard.
At Babbo, you're greeted by wafting Italian classical music, warm orange tones and yellow terracotta tiles under an exposed industrial ceiling. We sat at the white marble pizza bar divided by a glass partition, watching three chefs roll out dough and add scrumptious ingredients such as mozzarella, red tomato sauce and mushrooms to pizzas that are cooked in a 1,000-degree wood fired oven for 90-seconds.
We nibbled on bread sticks and ordered two Neapolitan-style pies. The goat cheese pizza with pistachio, red onion and truffle honey ($15) was non-inspirational and very dry. It cried out for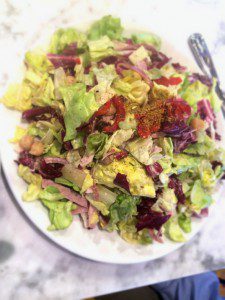 more honey or onions, and less cheese. Thankfully, the meatball, pickled chili, tomato and fontina ($12) pizza was out-of-this world. The small meatballs were moist, juicy and melted in your mouth, all served on a remarkably soft and tender thin pizza crust. I don't think I have ever enjoyed pizza like I did that day.
Try the Italian small plates ($5-19). I liked the cold bright green crunchy peas, mint and prosciutto ($5) in a ramekin. Skip the chilled and oily Siciliana calamari ($7), tubes cut into rounds with golden raisins. Share the Babbo chopped salad ($10), sort of an Italian sub in a bowl with large chickpeas, salami, ham, iceberg lettuce, spicy red peppers, shaved parmesan, mozzarella cubes and tomatoes.
Be sure to arrive early as Babbo Pizzeria e Enoteca fills up quickly for lunch service. It's worth most every bite.
Babbo Pizzeria e Enoteca
11 Fan Pier Boulevard
Boston, MA 02210
617-421-4466