Just off Commercial Street is Aragosta Bar + Bistro, serving Italian-inspired dishes from within the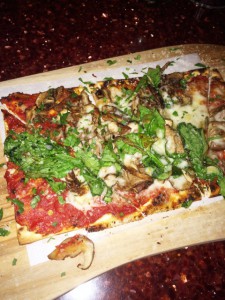 Battery Wharf Hotel. The cozy restaurant is unassuming with muted yellow decor and friendly service, but its dinner offerings are worth a visit and will appeal to most anyone.
I was invited to sample some of the new just launched menu launching created by Executive Chef Joseph Adamo who was previously with the Loews Miami Beach Hotel. Sitting in a corner booth I enjoyed the views of the open kitchen and their hospitality.
I recommend the tasty Latin-influenced finely diced red onion, lime juice, cilantro and shrimp ceviche appetizer served with fried plantains and seasoned in a Mexican cream sauce. Perfect with some crisp white wine.
Less remarkable was the robust Aragosta insalada that offered bittersweet greens (arugula, endive, radicchio), crunchy smoked almonds and fennel, pickled shallots and sliced pears swimming in a creamy, barolo red-wine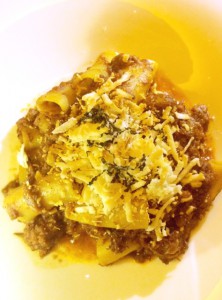 dressing ($10). Ask for the dressing on the side.
Not to be missed are the shareable small bites. The crispy tartufo fries are impeccably cooked in truffled duck fat, sprinkled with fresh parsley and a dusting of parmigiano cheese with a vinegar aioli-dipping sauce. Simply addictive ($7). The crispy matzo-like crust flatbread was presented on a wooden plank. The crust was topped with New Hampshire-foraged mushrooms, gorgonzola, spinach and tomato sauce, not pleasantly reminiscent of canned tomato paste ($18).
My favorite dish was the rigatoni alla Bolognese, a richly satisfying pasta, flavored with a tender veal chuck and oxtail stock and ricotta that tasted as if it cooked for hours ($26). A perfect dish for a chilly night. I paired it with an excellent glass of Montepulciano ($15) from Arogosta extensive wine ($8 -$22).
Aragosta is a welcomed North End alternative without the competitiveness of the Hanover Street crowds.
Aragosta Bar and Bistro
3 Battery Wharf
Boston, MA 02019
617-994-9001