Usually when I drink wine I contemplate the sensory experience over the science of winemaking.  I focus on the aromas and flavors of the wine and how it pairs with the food I am eating. I reflect on where I am,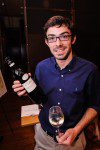 the company I am keeping and the mood I am in when I drinking my glass or two- my intimate wine occasion.
But last month, a small group of writers gathered at Laura Maniec's delightful Corkbuzz wine bar in Greenwich Village to blend the sensory with science in a hands-on tutorial called "Blending With Pleasure" led by winemaker, Pierre-Jean Sauvion, a fourth generation family member of the Loire Valley's venerable Sauvion House.
The Loire Valley is a vast region of France, known for its crisp, aromatic Muscadet, Sancerre and V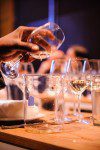 ouvray; it's the country's leading producer of white wines. Our assignment was to blend a Sancerre Sauvignon Blanc from four specific sub soils, each displaying a different characteristic: Silex (minerality), Caillotes (fruity), Griottes (sweetness) and Terres Blanches (acidity). Tasted alone, each sample went a little this way or that way. Precisely blended they would result in a balanced wine.
While we didn't don lab coats, we did have graded beakers for pouring and measuring.  After a welcome toast with Château de Cleray Muscadet Sevre et Maine, Pierre-Jean gave us a short, efficient overview of the different sub soils in the region and how they impacted the essences of the grapes. Then, we all start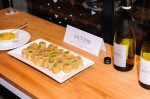 ed pouring, mixing and tasting the four samples to create our own blends. Pierre Jean walked the room tasting and evaluating each example. Two of us were "quite close." Alas, my version lacked enough acidity. Finally we tasted Sauvion's Sancerre blend. Voila!
We concluded with a tasting of Sauvion's 2011 Sancerre with shrimp salad and asparagus, Muscadet with pea and potato samosas, Vouvray with peekytoe crab salad with fennel and Rose d'Anjou with grilled beef and pickled vegetables, plus lots of other tasty nibbles that paired with all the wines.
My takeaway from the evening was this: The soil, the sun, the wind the elevation and other elements of nature provide the raw ingredients to worth with. Blending a wine is one part science, one part sensory and one part winemaker smarts.
I am a far better wine drinker than wine maker, and Pierre-JeanSauvion is a master at both.