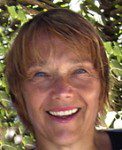 Bonnie: Craig Lieberman is the man behind these paper-thin crisps first introduced in 2003 with savory flavors and earlier this year with sweet ones. The new sweet ones include chocolate, cinnamon, graham and today's FeaturedBite, caramel. All are made using ingredients you can recognize and pronounce. I like that.
I also like that the crackers are so thin that you can taste whatever you put on them. And a serving of eight crisps are a mere 60 calories!
I recently had lunch with Craig at Del Posto in Manhattan, and while we dined, I learned about the origin of the company, which began while he was living in Australia.
The name of the company, 34 Degrees, is the latitude of Sydney, Australia, the city where Craig discovered Australian crispbread, the inspiration for these crisps. Craig attended university there. When he began the company, Craig imported the crackers from Australia. Today he manufactures them stateside, in Colorado.
And just last month, the company was honored by cobizmag.com — a Colorado online business magazine — when the magazine named 34 Degrees as one of 2012's "Top CO Companies To Watch."
As for the yummy delicate crisps, here are some ways I like to use them:
– with any cheese, from hard slicing to soft spreading ones
– to accompany a dip
– with pâté
– topped with peanut butter
– as a sweet garnish for a sorbet or gelato
– along with fresh fruit
– as a simple light snack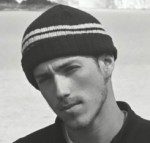 Bryan: Today's Bite seems to have more than a few fans. Now, we certainly don't base our product recommendation decisions on other peoples' opinions, nor necessarily on mass appeal. In fact, many of our chosen products are a bit off the beaten path. We do our best to discover and introduce, as sometimes the best food products don't have the best PR. Here at Bite of the Best, we've all tested enough food crap to know when we taste something truly good. And Bite of the Best is all about what we think is truly good, not just accepted as commonly good, regardless of the sentiments of others. That being said, we're not completely deaf to the raving accolades of others. So, when people representing two different past Bite selections are both raving about a product, we at least sit up and take notice. In this case, listening definitely meant agreeing, as well!
If you know our blog, you know that we love cheese. We love to eat cheese, we love to write about cheese and we love all things that complement cheese well! We've written about cheese boards, cheese cutters and just about everything cheese-related you can imagine. What better product to write about now but the cheese accompaniment… the cracker!
Not all crackers are created fundamentally as an accompaniment, with many attempting to be stand-alone snacks. So, there is something really special about the crispy creations of 34 Degrees; designed specifically to be the perfect foil for quality cheeses.
Cypress Grove Chevre Cheese Maker Mary Keehn, states that "the delicate but appetizing flavor and texture of 34° Crisps enhance our cheese rather than competing with it. It is the perfect complement for our products." Allison Hooper from Vermont Butter & Cheese Creamery notes that "Cheese makers always look for understated crackers to highlight the attributes of their cheeses. I like the crispbread with a hint of pepper. It is subtle, not filling, and perfectly elegant to pair with a special artisan goat cheese." Both of these esteemed cheese-making companies have graced the pages of Bite of the Best. If they think 34 Degrees' products are good enough for their cheese, we wanted to at least take a look as well!
What better references can you ask for? These are Bite of the Best recommended cheese makers: This is like the Dalai Lama recommending a yoga class. You should listen! 34° Crisps were literally created with the intention of being the perfect companion to the world's best cheeses. And man, have they hit the nail on the head! 34 Degrees, the name of the company and the latitude of Sidney, Australia, is where the company began building upon a tradition of Australian crispbreads. The company actually imported the goods (crackers) until 2008, when it discontinued its importing venture to focus on manufacturing instead. A wonderful choice!
If you're just a snacker, and not a cheese-lover, you'll still enjoy these wonderful, baked treats. They are about the thinnest, crispiest cracker available. Best of all, they're baked with no added oils, resulting in a light, delicious snack. One serving of 34° Crisps is comprised of eight crackers, all containing less than two grams of fat! Now you've got room for all that fatty cheese! Get snacking!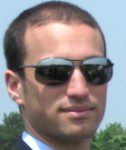 Eric: The original savory 34° Crisps are designed to treat the palate of your average cheese aficionado; they're thin, flavored with subtlety and nearly melt in your mouth. The new 34° Sweet Crisps are also designed to treat the palate. However, it's the palate of an ice cream aficionado. A 34° Sweet Crisp is a perfect "wafer" addition to any scoop of ice cream. Low in calories and full of flavor, they are a "sinless" addition to the dessert menu.