Get ready sandwich lovers, it's the Fourth Annual Mezzetta 'Make That Sandwich' Recipe Contest. The Grand Prize winner will receive $25,000 and a trip for two to Napa Valley, home of Mezzetta.
Enter your original recipes at MakeThatSandwich.com in any or all of three categories: cold sandwich, hot sandwich and vegetarian sandwich from May 30 through September 5, 2011. Adding a new twist this year, Mezzetta is asking you, the public, to choose the Grand Prize winner. Entries will first be judged to narrow the pool to a top 10 based upon appearance, taste, creativity and use of Mezzetta products. Ten finalists will be them presented to America for voting during September.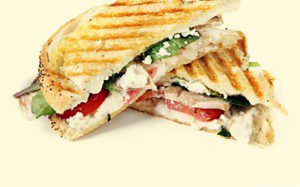 Carrying on the tradition initiated for the 2010 contest, this year's Celebrity Chef Sandwich Charity Challenge features eight culinary masters competing for  a $10,000 donation to the charity of his or her choice. Each of the eight celebrity chefs created and submitted a recipe incorporating two or more Mezzetta products. You can make their choice for your favorite celebrity chef sandwich to help award the charity donation.
Celebrity chefs include:
David Bazirgan from San Francisco, CA, Executive Chef of critically acclaimed Fifth Floor Restaurant, competes for Family House with his "Open Faced Grilled Eggplant Tartine with Mezzetta Pesto, Mezzetta Roasted Peppers, Fresh Mozzarella and Arugula."
Michael Ferraro from New York, NY, Executive Chef of Delicatessen and macbar. Recently named one of Zagat's "30 Under 30: New York's Hottest Up-and-Comers," Michael competes for the Lustgarten Foundation with his "Pan-Roasted Chicken Thigh Sandwich, Castelvetrano Olive Pesto, Tri Color Roasted Pepper Aioli, Burrata Cheese on Ciabatta Bread."
Ingrid Hoffmann from Miami, FL, Host of the Food Network's, "Simply Delicioso," and "Delicioso" on Univision/Telefutura, competes for The Food and Finance HS (NY Food and Education Fund) with her "Mezzetta Sweet Tapenade Chicken Tostada with Red Pimento Crema."
Stephanie Izard from Chicago, IL, Chef/Owner of The Girl & The Goat Restaurant and fourth season winner of Bravo's "Top Chef," competes for Share our Strength with her "Chorizo and Brandade Sandwich, Olive and Pepper Tapenade on Grilled Sourdough."
Roger Mooking from Canada, Host and Co-Creator of the internationally broadcast television series, "Everyday Exotic," competes for Cooking Up Justice By World Vision with his "Shrimp Salad Sandwich."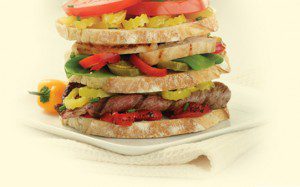 Michael Psilakis from New York, NY, Chef/Owner of Fish Tag. Michael has been named Food & Wine's "Best New Chef," Bon Appétit's "Chef of the Year," and has regularly appeared on several Food Network shows. He competes for Bobbi Bear with his "OPA! Grilled Pork Tenderloin with Spicy 'Greek Salad' on Grilled Ciabbata."
David Rocco from Canada, Host of the internationally broadcasted TV series, "David Rocco's Dolce Vita," competes for the American Red Cross Japan Earthquake and Pacific Tsunami Relief Fund with his "Crostone di Carpaccio with Mezzetta Kalamata Olives, Roasted Bell Peppers and Caramelized Onions."
Jeffrey Saad from San Francisco, CA, Host of the Cooking Channel series, "The United Tastes of America," and fifth season runner-up of "The Next Food Network Star," competes for Alexandria House with his "Mezzetta Cuban."
It's all for charity and for fun. Take your chance, show the world your favorite sandwich and see if they agree!
-bryan