Is Your Homemade Sauce Worth $1 Million? Well, Dave's Gourmet is looking to home chefs for the next great sauce. Dave Hirschkop of Dave's Gourmet thought he could make better sauce than the supermarket brands, and he thinks you might be able to as well and Dave is putting his money where your kitchen is by creating a national contest to determine where America's next great sauce, salsa or dip will come from. Here's how to enter Dave's Gourmet Recipe Challenge, with a grand prize of up to $1,000,000 in sales royalties.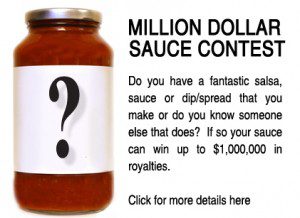 1. Send Dave your recipe at www.davesgourmet.com by December 31, 2011. Entrants have to warrant that they own that recipe and that they did not swipe it from their sister-in-law when she wasn't looking.
2. January 1-4, 2012, Dave's team will test the recipes and choose a bank of semifinalists. Sauces will be judged in five categories – taste, appearance, creativity, consumer appeal and the recipe's ability to be mass-produced. Semifinalist sauces will be taste-tested by a panel from Dave's Gourmet and finalist sauces will be chosen and their owners notified between January 12-14.
3. January 15-17, hundreds of food professionals at the Fancy Foods Show in San Francisco will taste the finalists' entries and will vote for their favorite. On January 18, the winner or winners will be announced and notified. Within two weeks of being notified, winners must sign some paperwork and collect their advance of $2000. The sauce will be produced for Dave's Gourmet's retailers and might have the winner's name right on the label. The winner will receive royalties for 6 years, up to $1 million.