Four burgers in a 12.8-ounce box
Each burger contains 110 calories, 3 grams fat, 380 milligrams sodium and 690 milligrams Omega-3 fatty acids
$9.99
Wild Alaskan salmon burger
In supermarket freezers, currently only in some parts of the country
Salmon lovers and anyone looking for a hefty serving of omega-3 fatty acids
Bonnie: My love affair with salmon reached new heights on my trip to Alaska in 2001, eating fresh salmon soon after it was pulled from the icy waters off Juneau.
Since then, I always ask for wild Alaska salmon from my fishmonger, and query servers about the source of the salmon on their restaurant menus.
When WorldCatch offered samples of these Wild Alaskan Salmon Burgers, I couldn't resist: One, because it was Alaskan salmon; and two, because I try to eat salmon weekly to get a hefty dose of their good-for-me omega-3 fatty acids.
As you may know, the new USDA dietary guidelines recommend eating two 4-ounce servings a week of foods rich in omega-3 fatty acids to help reduce the risk of heart disease. Other fatty fish high in omega-3's include mackerel, lake trout, herring, halibut, sardines and tuna.
WorldCatch also offered us some of its other sustainably caught, 100 percent-natural seafood entrees. We accepted and weren't disappointed.
I've tossed these "burgers" onto a grill, pan-seared and even baked them, preferring the flavor results of first two methods. I've enjoyed them plain, served with grilled veggies, over a salad or on a bun topped with typical hamburger accoutrements. Yum.
Bryan, Eric and I had a hard time selecting which of the WorldCatch line we thought best, so our advice to you is to sample most any of them. We feel you won't be disappointed. Personally, coconut shrimp is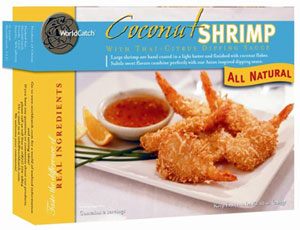 my second favorite of their line, though I must add that I hardly ever like any prepared dishes with shrimp, as they're usually overcooked, fishy and use minuscule shrimp. These are different, offering large butterflied shrimp in a very light batter coated with coconut.
I like to keep a box of the coconut shrimp in the freezer as an appetizer with cocktails for unexpected (or, for that matter, expected) company. I would never eat them as a main dish, but as a starter to whet my appetite, they're simply delicious.
Bryan: I feel like nobody here eats enough fish. In an overly protein-obsessed world, beef, chicken and pork have taken control and left little room for debate (especially in the United States). Now, I'm not saying that fish is completely absent from the discussion, but it certainly is the Ralph Nader of most home cooking.
I frequently order fish when I'm dining out: tuna steaks, salmon filets, seared scallops, seafood risotto… I can't seem to get enough. I've come to realize that's because I never really eat seafood at home. Let's have an honest moment here. Seafood can be a pain in the ass. With personal schedules always changing and without a regular supermarket-shopping schedule, keeping fresh fish in the house is more liability than priority for me. I have been known to turn up my nose at most frozen fish, leaving chicken breasts, pork tenderloins and various beef cuts to take center stage in my home cooking. This monopoly of my palate will continue no more, thanks to WorldCatch and its amazingly tasty array of frozen seafood.
Yes, frozen. I said it. Frozen has become such a horror word in the culinary world, but I'm going to let you in on a secret: Every chef uses frozen ingredients. There's nothing wrong with frozen food. Freezing keeps things fresh over distances and time. Sure, it would be fantastic if everything were fresh, but that's just not always possible. So, there's WorldCatch.
Salmon burgers, yum! These patties cook from frozen on the grill in only 4 to 5 minutes on each side. You can, of course, choose to pan-sear for about the same amount of time, or even opt to bake in a 400-degree oven for 9 minutes on each side. The texture is certainly different from beef, but much more dense than I imagined a fish burger to be; delicious with just lettuce and a bit of tartar sauce on an onion roll. Great "stats" as well, with only 5 percent fat and 36 percent daily protein and a great source of omega-3 fatty acids.
Another product also really got my taste buds tempted. When you pick up your salmon burgers, give a try to the pesto-topped tilapia: a skinless, boneless fillet topped with a mix of finely diced artichoke hearts, roasted red pepper, garlic, fresh basil, olive oil, lemon, spices and Parmesan cheese. It's really to die for. This full dinner can be prepared in the oven in only 16 minutes (or even in the microwave in 4 minutes). There are no more excuses for a fishless existence.
Eric: I'm a glutton when it comes to healthy, nutritious, good-tasting foods. The question really is, who isn't? I can't imagine any person — aside from those who consider fast food as the major component of their diets — scoffing at the idea of enjoying a succulent piece of pan-seared, barbecue-marinated salmon, or a baked fillet of tilapia topped with artichoke pesto. The reality is, as my brother already pointed out, seafood can be a difficult addition to the average at-home dinner menu. For some people, fresh seafood can be difficult to properly prepare, and for most people, it is extremely pricey (depending where you live). I imagine both of these reasons, and more, have helped lead away from home fish consumption.
The United States has truly become overrun by its obsession with high-protein meats, particularly those from the pig (a "magical animal"), the cow (a holy animal) and the chicken. Growing up on the East Coast, a 15-minute drive from the Atlantic, I can't ever recall having much fish as a staple in our nightly family dinners (scallops are the only mollusks that comes to mind). Although we ate freshly prepared meals, fish just wasn't something that appeared often on the table. I believe that for the majority of Americans, fish has nearly gone the way of the dodo, especially when dishes like meatloaf, pork chops and fried chicken are more plentiful, cheaper and seem easier to prepare.
My second point — and the reason why I enjoy the WorldCatch products so much — is portion control.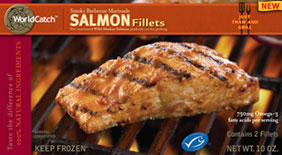 The question most people should ask themselves before sitting down for a meal is: How much do I need to eat to satisfy my hunger? For some people the answer is simple: Eat until you feel comfortably full. For others, though, the answer can be difficult, so they eat until the food is gone. The second answer is one of the reasons the United States ranks among the countries with the highest obesity problem. Simply put, the majority of the populations' eyes are much bigger than their stomachs.
I've rambled on long enough, and haven't even explained what it is about the Alaskan salmon burgers, or the other frozen seafood products WorldCatch produces, that entitle the brand to be a Bite of the Best. Here are my reasons:
One. The taste of fresh seafood without the hassle of spoilage;
Two. Individually packaged portion-controlled servings;
Three. High protein, low fat and low in calories; and
Four. The fish is DELICIOUS.