July 8, 2013
Details: $7.99 per 3.5-ounce bar
Availability: Online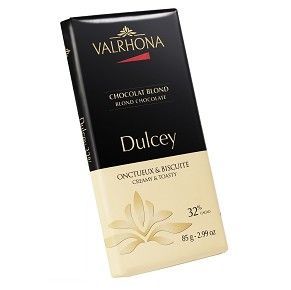 Valrhona has recently added Dulcey "Blond" chocolate bar to their existing line of chocolates. The bar is made with pure butter cocoa.
Each  3.5-ounce bar contains 590 calories, 25 grams saturated fat (of 41 grams total), 250 milligrams sodium and 50 grams sugar.
- Alyssa Tucker, Bite of the Best Intern: If you are looking for a rich chocolate bar, this is it.  It's so rich and satisfying that  I could only have a little at one time. That's good because the bar is the high fat and sugar. I suggest you indulge only occasionally.

Leave a Comment or Write a Review
Posting Policy
Bite of the Best encourages our readers to comment on and review any products that we write about. Please express your opinions in a mature and civil tone of voice. We will not post rude or otherwise inappropriate material on Bite of the Best. We look forward to your comments and reviews!