May 24, 2015
Varieties: Purely vanilla, sea salted caramel, chocolate chocolate chip, peach mango, hazelnut, coffee chip, chocolate peanut butter, mint chocolate chip
Details: $4.99 per 32-ounce carton
Availability: Select retailers

Turkey Hill Dairy just released an All Natural Gelato in eight flavors, made with fresh milk abd real sugar, containing  less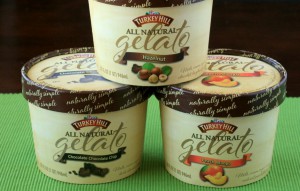 air than most ice creams giving it a rich mouth feel.
A 1/2 cup serving varies from 190 to 240 calories, 6 to 8 grams saturated fat (of 10 to 15 grams total) and 20 to 24 grams sugar.
One Comment on "Turkey Hill Dairy All Natural Gelato"
Linda Zunner Says:


I must say im greatly disappointed in the quality
Of the Gelato. I don't normally dont write a bad review but
I must. I Bought vanilla @ sea salt caramel. The
Vanilla is awful so i will trash it. I would return them
but tossed The receipt away. I love turkey hill products
but will never Recommend the Gelato..
Leave a Comment or Write a Review
Posting Policy
Bite of the Best encourages our readers to comment on and review any products that we write about. Please express your opinions in a mature and civil tone of voice. We will not post rude or otherwise inappropriate material on Bite of the Best. We look forward to your comments and reviews!