Consumer Reports has named the McDonald's hamburger the worst-tasting burger in America. Congratulations. The largest supplier of burgers is the worst, is anybody surprised?
The magazine surveyed 28,000 people nationwide to come up with rankings on a ten point scale. Five Guys and
In-N-Out Burger topped the list. Burger King came in tied for next to last place (another big surprise).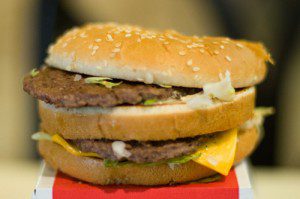 The survey was conducted by polling online subscribers, asking them to rate the burgers they had eaten on their last visit on a scale of 1 to 10. The study evaluated 18 fast-food restaurants in total from across the country. The full report and Ratings are available in the magazine's October issue and on www.ConsumerReports.org.
Highlights from the list:
18. McDonald's, 5.6 /10,
15. Krystal, Burger King and Jack in the Box, 6.3 /10,
14. A&W Restaurant, 6.5 /10,
12. Wendy's, and Sonic, 6.6 /10,
11. White Castle, 6.7 /10,
9. Carl's Jr, and Checkers Drive In, 6.9 /10,
8. Hardee's, 7.2 /10,
7. Whataburger, 7.3 /10,
6. Culver's Frozen Custard, 7.5 /10,
4. Burgerville, and Back Yard Burgers, 7.6 /10,
3. Fuddruckers, 7.7 /10,
1. (tie) Five Guys and In-N-Out Burger, 7.9
-bryan