Eric and I dreamed of the moment that Nestle again would make their mint-chocolate morsels so we could use them in our Mint Mania Bars (decadent brownies) from my "365 Great Cookies and Brownies" cookbook.  Over the years, we adapted the recipe to use regular Toll House morsels and pure peppermint extract, but still lamented their loss, pleading with Nestle to produced the mint chips again.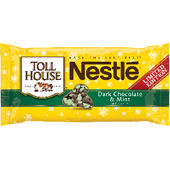 That's why Nestle let us know that — just in time for holiday baking and through December  — they would offer Dark Chocolate & Mint Morsels (10-ounce bag $2.99).
We asked for samples, looking forward to making our beloved brownies again.
Sadly, I report that these are not the same Toll House Mint-Chocolate Morsels. Instead they contain half the delicious mint chocolate chips and the other half a "mint chocolate confection" Those are  light green morsels shaped like a chocolate chip, but instead are a blend of sugar, palm kernel oil, hydrogenated palm oil, oil of peppermint, soy lecithin, vanilla extract and Yellow 5 Lake and Blue 1 Lake artificial coloring.
You can bet I'm not ruining my brownies with the addition of these morsels, that is unless I can find someone to hand pick out the chocolate ones from the bag.
– bonnie