Nationally available
$3.99 per 10.5-ounce package
SunChips has added Sweet & Spicy BBQ to their line of multigrain snacks. This new flavor is made by blending molasses, brown sugar, honey, hints of spice and chipotle.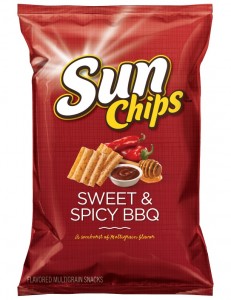 Each 1-ounce 15-chip servin contains 140 calories, 0.5 grams saturated fat (of 6 grams total), 135 milligrams sodium, 18 grams whole grains and 2 grams protein.