Nationally available
$4.29 for a take home box (contains six (6) pouches) or $.99 for one single pouch (there are three pieces of candy in each individual pouch)
caramel and peanut butter crème
Skinny Cow introduced Divine Filled Chocolates candy in two flavors, Caramel and Peanut Butter Crème. Each single serve package contains not one, but three satisfying pieces of filled chocolates.
Each 3-piece, 1-ounce serving contains 130 calories, 4 grams saturated fat (of 6-7 grams total), 80 milligrams sodium and 15 grams sugar.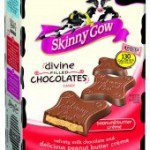 – Alyssa Tucker, Bite of the Best Intern: Peanut Butter Crème was my favorite of the two because the peanut butter balanced the sweetness of the chocolate. Since each pouch comes with 3 pieces it made me feel like I was getting a good sized sweet treat, so I wasn't left craving more.