Nationally available at Wal-Mart and online
$2.99 for 11-ounce carton or $5.99 for 1-liter carton
Vanilla Latte and Creamy Cappuccino
Genesis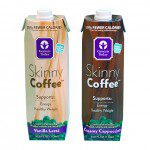 Today developed Skinny Coffee with pure green coffee bean extract, from green (un-roasted) coffee beans that are shown in one study promote moderate weight loss. According to the Applied Food Sciences, Inc, the organization that funded the research, the extract contains chlorogenic acid, which when combined with 180 to 200 milligrams per day of caffeine works to stimulate weight loss.
A 2011 review in the journal Gastroenterology Research and Practice, criticizes the quality of the study and recommends more research.
This coffee does not contain high fructose corn syrup or artificial sweeteners or colors. It is available in two flavors Vanilla Latte and Creamy Cappuccino.  Each 8-ounce serving contains 90 calories, 1.5 saturated fat (of 2.5 total), 75 milligrams sodium, 10 grams sugar and 400 milligrams of green coffee bean extract.
– Alyssa Tucker, Bite of the Best Intern: The Creamy Cappuccino flavor has a strong milky bitter taste compared to regular coffee. I liked the convenience of having ready made coffee.