January 3, 2013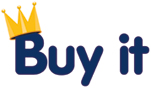 Varieties: Blueberry Acai, Cherry Almond, Toasted Coconut, Cranberry Almond, Apple & Honey, Orchard Peach, Dark Chocolate Peanut Butter, Strawberry
Details: $1.79 per bar, $19.99 for 12-pack, $71.99 for 48-pack
Availability: Nationally available and online at the BiteoftheBest.com shop

Shelf-stable Greek Yogurt bars made with nuts, fruit and granola, are available from Rickland Orchards. The bars are available in Blueberry Acai, Cherry Almond, Toasted Coconut, Cranberry Almond, Apple & Honey, Orchard Peach, Dark Chocolate Peanut Butter and Strawberry.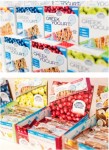 Each 1.5-ounce bar contains 150-170 calories, 2.5-3 grams saturated fat (of 6-10 grams total), 40-50 milligrams sodium, 8-12 grams sugar and 7-10 grams protein.
Leave a Comment or Write a Review
Posting Policy
Bite of the Best encourages our readers to comment on and review any products that we write about. Please express your opinions in a mature and civil tone of voice. We will not post rude or otherwise inappropriate material on Bite of the Best. We look forward to your comments and reviews!