Nationally available
Rachael Ray Smoky BBQ Sauce $4.60-$5.99 per 18-ounce bottle and Porcini Steak Sauce is $4.42-$5.74 per 15-ounce jar
Smoky BBQ and Porcini Sauce are the newest additions to Rachael Ray sauces.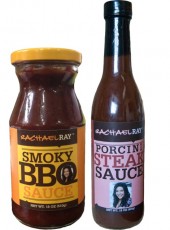 Each 2-tablespoon serving of the Smoky BBQ Sauce contains 45 calories, no fat, 240 milligrams sodium and 10 grams sugar. Each 1-tablespoon serving of the Porcini Sauce contains 15 calories, no fat, 110 milligrams sodium and 3 grams sugar.