February 3, 2013
Varieties: Cherry Chocolate
Details: $3.49 per 12.oz Jar
Availability: Nationwide

Planters NUT-rition Peanut Butter introduces Cherry Chocolate, the fourth new variety. The line of Planters NUT-rition Peanut Butter features wholesome ingredients such as bananas, granola, berries, raisins, cinnamon and nuts.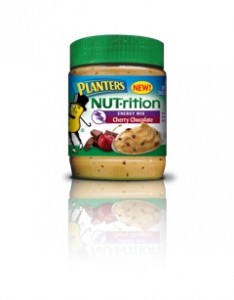 This peanut butter contains about the same calories and fat as regular peanut butter, or ~180 calories and 13 grams total fat per tablespoon.
4 Comments on "Planters NUT-rition Peanut Butter in Cherry Chocolate"
Leona Knox Says:


Peanut butter just got a makeover, as Northfield, Ill.-based Kraft Foods Inc. rolls out Planters Nut-rition peanut butter. Created for adventure-seekers, the new line is the first national brand to add wholesome ingredients like bananas, granola, berries, raisins, cinnamon and nuts into its peanut butter.

thomas Says:


where can i fine cherry chocolate peanut butter -?????????????????????????????? i have looked at wal-mart – had it at one time -now they don't have it

sandra rivera Says:


Plse, I have a question in regard to the Nut-rition flavors, we have tried & tried to find the Nut-rition 'peanut butter for the past 3 months in different stores, Walmart, every 1 we go to, through out town, Winn Dixie, Rowe's, & Publix, & we can't find it anywhere anymore, ILOVE THE RASIAN, CINNN, & was going to try the Banana, Garnola but didn't get a chance, we had bought it for about 5 months & NOW can't find it No'where, we've even looked on line, Amazon is out, Walmart online is out, so plse tell us is the Nut-rition PEANUT BUTTER STILL BEING MADE, we see the different mix's galore but no Nut-rition'Peanut butter' we do Pray your still making it & plse will you let me know by a email, this is my private email, that I don't get many emails on here cause it's my tablet & I usually use my computer email to receive reg emails, I' have health issues & my colaspe hip I couldn't get to sit @ the computer to send in this, I've been craving this for months but haven't been able able to find, my son & his wife' same thing & just had a friend today that said that sounds good I want to try it, but had told her not able to find it"PLSE CAN YOU–tell us where we can locate it in Jacksonville Fl area' if you would let us know, it would be Great" or if we can order it on line thru the the site, also let us know if we can save on ship/handl'some how, cause do have several people who' are looking to get some, also does the stores make request to order?; or does merchandiser make contact?; just wondering how can we get it back on shelves around here, or @ least here on tge North & West'side of Jacksonville'Fl–Zip code areas– 32218 & 32220–the 32218 area, has a Big shopping & has a super'Walmart, the 32220 or 32219 has a Walmart(on Normandy blvd); is where we have also checked @2 Walmart's -W.D & Rowe's on the other area ; but any help to let us know How we can get a BIG Favorite, we would be greatful, thank you for your time & attention to this matter, you have a blessed day,, Sincerely Sandy

Bonnie from BiteoftheBest.com Says:


I reached out to the Planters publicist who said : "I do believe they no longer produce the NUT-rition peanut butter varieties. Sorry to be the bearer of bad news!

For future reference, here is a link to the Kraft product locator http://productlocator.kraftfoods.com/kraftfoods/productlocator.htm. The product at question isn't available to search because it has very little to no distribution.
Leave a Comment or Write a Review
Posting Policy
Bite of the Best encourages our readers to comment on and review any products that we write about. Please express your opinions in a mature and civil tone of voice. We will not post rude or otherwise inappropriate material on Bite of the Best. We look forward to your comments and reviews!