Nationally available
Artisan Flour Blend: 24-ounce bag $5.59, 4-lb. bag $ 13.75; Oatmeal Cookie Mix: 13-ounce bag $4.65; Sugar Cookie Mix – Roll & Cut: 13-ounce bag $4.65
Pamela's Products has added three new baking mixes, Artisan Flour Blend, Oatmeal Cookie Mix and Sugar Cookie Mix, to it's line of gluten free products.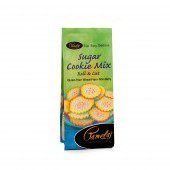 The Artisan Flour Blend is a multi-use flour, made without leavening or sugar and is 100 percent free of wheat, gluten, dairy, soy and corn.