March 21, 2013
Varieties: Hickory Smoked Seasoned Pulled Pork and Sweet & Spicy Seasoned Pulled Pork
Details: $5.99 per 11.5-ounce container
Availability: Nationally available

Hickory Smoked Seasoned Pulled Pork and Sweet & Spicy Seasoned Pulled Pork are the newest additions to to Oscar Mayer's line of Carving Board meats. Made from pork shoulder, smoked using natural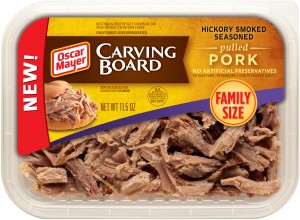 hardwood and made without artificial preservatives, each 3-ounce serving contains 130 calories, 1.5-2 grams saturated fat (of 4-6 grams total), 530 milligrams sodium, 1-6 grams sugar and 16-18 grams protein.
Leave a Comment or Write a Review
Posting Policy
Bite of the Best encourages our readers to comment on and review any products that we write about. Please express your opinions in a mature and civil tone of voice. We will not post rude or otherwise inappropriate material on Bite of the Best. We look forward to your comments and reviews!