OneHope wines lets you give back by simply enjoying a glass of California wine as this company donates 50 percent of its profits to partner charities benefiting a variety of causes.
OneHope is a charitable organization started by eight friends who turned what started as a personal mission to help a friend with her fight against cancer into a thriving business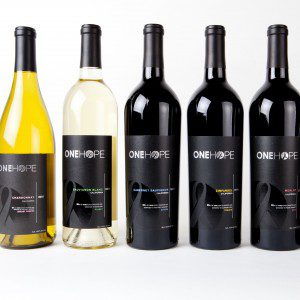 . The company is founded on a very basic principle: giving back is good business. To date, OneHope wines has donated over $1,000,000 to a wide range of charities.
Their wines are not only good for charity — they also taste good – and are reasonably priced. Most are under $20. The wines include:
Cabernet Sauvignon (for autism) – dark ruby color with dark berry and cassis fruit and soft tannins; aged in oak. Goes well with grilled and roasted meats.
Zinfandel (for our troups) – deep red color, with plum and cherry fruit with a hint of pepper. Goes with lots from pizza to barbecue.
Chardonnay (for breast cancer) – pale golden color with crisp pear and apple flavor, balanced oak.  Goes with grilled seafood, poultry and cheese.
Merlot (for AIDS) – bright cherry color with subtle notes of tasty spice from aging in oak; rich tannins. Goes with meats, pastas and veggie dishes.
Sauvignon Blanc (for the planet) – pale straw in color with hints of grapefruit. Goes with fish, light pasta dishes and cheese.