Nationally available
$4.59 per 9.5-oz package containing 4 burgers
MorningStar Farms has recently added a Mediterranean Chickpea Veggie Burger to its already existing line.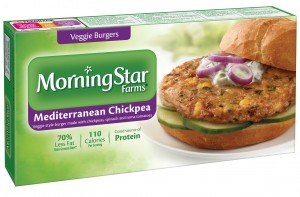 Each 2-ounce burger contains 110 calories, 0.5 grams saturated fat (of 4.5 grams total), 240 milligrams sodium and 10 grams protein.

– bonnie:  Although I found these tasty, I prefer the texture and flavor of their Grillers to these chickpea ones. Both the Grillers and these Mediterranean Chickpeas "burgers" contain 70 percent less fat than regular ground beef ones.