January 21, 2017
Varieties: Strawberry rhubarb, key lime, blueberry, original, vanilla bean coconut
Details: $2.99 per 5.3-ounce cup
Availability: New York Metropolitan Area

Misha Quark is like yogurt with its smooth, creamy texture but is higher in protein and without yogurt's sour tartness.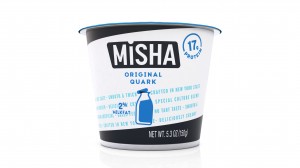 The quark is available in five flavors: Strawberry Rhubarb, Key Lime, Blueberry, Original and Vanilla Bean Coconut, and is made with milk from grass-fed cows. It is  95% lactose-free.
Each container contains 120 to 170 calories, 1.5 to 2.5 grams saturated fat (of 2.5 to 3.5 grams total), 45 to 50 milligrams sodium and 14 to 17 grams protein. Quark is a good to excellent source of calcium with 15 to 20% of the daily recommended intake.
Save
Leave a Comment or Write a Review
Posting Policy
Bite of the Best encourages our readers to comment on and review any products that we write about. Please express your opinions in a mature and civil tone of voice. We will not post rude or otherwise inappropriate material on Bite of the Best. We look forward to your comments and reviews!