Nationwide and online
$1.99 to $2.29 per 1.9-ounce cup
Maple brown sugar, apple cinnamon, vanilla honey, original
McCann's Irish Oatmeal is now available in single serve microwavable cups: Maple Brown Sugar, Apple Cinnamon,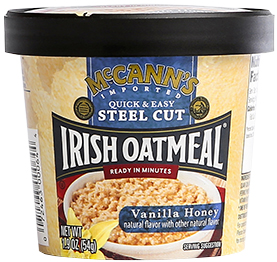 Vanilla Honey, and Original. They are ready in 3-minutes, ten times faster than traditional steel cut oats.
Each 1.9-ounce cup serving contains 150 to 200 calories, 0.5 grams saturated fat (of 2 grams total), 120 to 340 milligrams sodium, 3 to 4 grams protein and <1 to 21 grams sugar. The oatmeal is a good source of fiber (3 grams per serving), and a good to excellent sources of several vitamins and minerals.
– bonnie: I recommend only the original, as the others have too many added sugars.
BonnieBOTB
Follow @BonnieBOTB