August 3, 2016
Varieties: Southwest chipotle, monterey risotto, sesame sriracha, smokehouse brussels
Details: $3.99 - 4.99 per bowl
Availability: Nationwide

Nourish Bowls are veggie bowls featuring lots of fresh veggies (kohlrabi, butternut squash, cauliflower, sweet potatoes, kale, sugar snap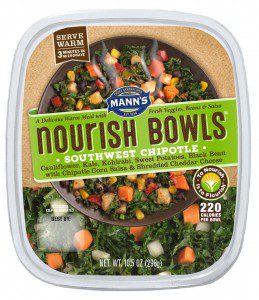 peas) plus grains and sauce that only need a few minutes in the microwave. Serve for a meal or as a side dish. The flavors include Southwest Chipotle, Monterey Risotto, Sesame Sriracha, and Smokehouse Brussels.
Bowls vary in nutrition with 220 to 420 calories, 1.5 to 5 grams saturated fat (of 6 to 32 grams total), 540 to 800 milligrams sodium and 6 to 11 grams protein. They all are are excellent sources of fiber with 6 to 11 grams per serving.
Save
27 Comments on "Mann's Nourish Bowls"
Cynthia C Says:


Where do I find more .. I live in Cleveland Ohio found some in Vermilion Ohio at Giant Eagle These are amazing

Kathleen Says:


I just had my first one, the Smokehouse Brussels. It was very good. Honesty, at first glance after cooking it, it didn't look too appetizing, but it certainly tasted great. It's the highest calorie nourish bowl right now I believe, at 420. I'll try the other varieties. Great alternative to always eating cold salad. Give it a try! I'm going to try them all.

Rebecca M Says:


Just tried smokehouse brussels, and loved it! I have to admit I wasn't expecting much. 3 minute cook time? That can't be enough! A hard nugget of a rice pack? I might scoop that out…a sauce packet? It's probably too salty. I made it according to directions and it was fantastic! Seriously good enough to order in a restaurant, a dish I would keep coming back for. Fan-effing-tastic!

Eva Says:


Saw these at our local Meijer store Michigan and purchased one and was completely blown away at how good it was. Went back and purchased 3 other flavors. Great alternative to a salad and keeps me full til dinner. Two thumbs up all the way! Great product.

Brandyn-Ashley Says:


These things are amazing! I've tried all, but the Smokehouse Brussels. Never had a veggie bowl that not only got me super full, but lasted hours! I stock up on these every week, so I can have them as my dinners, before I head out to coach cheer. The fact that my kids love them too makes it even better.

Illona Hansen Says:


Please put complete instructions with the package. Do we open and stir in the rice before or after heating? Same with the sauce. If not until after, is the rice packet to be punctured? Seems obvious to you. As someone who does not want to clean up a mess in the microwave oven, I want more information. Thanks.

Val Says:


The don't have the Smokehouse Brussels at my local Safeway but I'll search for it. I've been getting th Southwest Chipotle & love it! It's spicy & flavorful.

Jeanie Says:


Wow I had the Southwest one today and it's just delicious!! Great idea, can't wait to try the others

Hope Says:


I'm having the Southwest Chipotle as I write. Unlike other reviews here, I definitely not blown away by it. More like extremely underwhelmed. I picked the Southwest because it has the fewest calories. A couple of issues:

Put the instructions on the TOP of the package, not the bottom.

I'm eating this at work, and found the salsa pack wasn't so easy to open. I had to go back to my desk, get a scissors, go back to the kitchen area, cut it open.

Overall – not good. Very low on flavor. 3 minutes in the microwave left the vegetables half-baked. Not tender-crisp as one would prefer, but still raw-crunchy and luke-warm. It's almost as though the dish can't make up it's mind whether it's a raw salad or a cooked vegetable dish.

I am not a veggie hater by any means – quite the opposite. But this gets a double thumbs down from me.

Natasha Clark Says:


I found the Nourish Bowls at my local Meijers. I was tired of eating cold salads and wanted something quick and warm. I decided to try it. I was surprised at how much I enjoyed it. In terms of the cons, I must agree with Hope. I had to go get scissors in order to open the packet and it was awkward to read the directions as I had already opened the top. I was wondering if the container is BPA free as I normally heat my lunch in a glass container to avoid it. I hope that they improve the inner packaging so that it can be opened without scissors.

Leslie Says:


I just tried the "Cauli-rice Curry" one. The curry sauce is really good, just the right amount of salty and spicy and great flavour. But after 4 minutes in the microwave the cauliflower is still crunchy, despite being burning hot. Maybe it's supposed to stay crunchy? But something about eating a huge bowl of crunchy cauliflower bits is not all that appetizing, no matter how good the curry sauce is.

Lauren Says:


I bought the Monterey Risotto and was missing the sauce package….so it was pretty disappointing for me.

Cynthia Louise Coles Says:


Finally got to buy at my Giant Eagle . I love this product always feel full up until dinner Bery flavorful

Lorelei Macpherson Says:


I absolutely love these bowls! I'm totally obsessed with the Southwest Chipotle and the Curry Cauliflower. I have learned to microwave them more like 5 minutes to make the veggies a good texture, but DAMN! I CANNOT GET ENOUGH OF THESE! So freaken delicious!!! mmmmmmmmm……..

Scott Hanscom Says:


These are one of my go to's for quick healthy lunch options! I love the Sesame Sriracha ones the best and the smoked brussels are really good too. As a vegan, products like this are very hard to find, I wish all the nourish bowls were egg and dairy free also! The rice packets are difficult to open, but scissors or a knife will do the job. I'm hoping they expand to include more flavors in the near future!

Rosa Lee Gibbons Says:


I had a long tiring day that ended with grocery shopping. Too tired to cook I was trying to figure someplace to grab a bite later that wasn't too, too unhealthy. Then I spotted the Nourish Bowls. I grabbed the Southwest Chipotle and then a small piece of marinated salmon in the butcher shop and I was set.

Less that 15 minutes I had dinner on the table. The Nourish Bowl was delicious. I will definitely try others but will be limited due to the $4.99 price at my grocery. I love that the veggies aren't over done. My minor complaint would be to put directions on the top, make add in packets tear open and leave out the kohlrabi. I like it but it needs longer than three minutes cooking time.

K Says:


Is the fat content on the Smokehouse Brussels accurate? I just had my first one and it was GREAT, but 32 grams of fat for a bowl of mostly veggies? I get that there is dressing but?? Just want to confirm if that was a mistake or not!?!

Jacob Shafer Says:


We're sorry to hear that you're unhappy with the fat content in our Smokehouse Brussels Nourish Bowls. We are always looking for ways to improve our products, and we will pass along this feedback to our R&D team. In the meantime, have you tried the Southwest Chipotle? it only has 9g of fat…PS – the sauce and rice add to the total fat content. You can always try the bowl with only half the sauce and half the rice to lower the fat content. Enjoy!

Julie Says:


My hubby and I just tried the Southwest Chipotle and we love it! Microwave times are exact depending on machine. 4 minutes at work and 3 at home.
The salsa package needed scissors to open and the instructions on the bottom are okay with me.
I can't wait to try the others except for the Sriachi Sesame as it has 800mg of sodium.
This is my new favourite lunch!

Jean Bennett Says:


I just tried the Curry, Cauliflower & Chick Peas… delicious indeed! I have also had the Sriracha Sesame… YUM!! I will be trying the others in the next coming days, filling and flavorful! Thanks you Mann's!!!

Crystal Bibb Says:


Just tried the Monterey Risotto Bowl, and I must admit that it was very fulfilling and delicious. Makes me wanna go out and find the other 4 flavors. But question, are they healthy enough to eat for lunch everyday?

Annette Says:


Just tried the Southwest Chipotle, and it takes longer than 3 minutes to cook in microwave…..not impressed, will not be buying this product again. Wasted money and wasted lunch.

Annette Says:


Site should be called Bit of the Worst.

Fiona Says:


I love the Monterey Risotto bowl. I cook a piece of salmon and add it in after I microwaved the bowl. I use the rice but not the dressing ax I like my dressing better. I just wish the Raleys store in Pleasanton, Ca. would be consistent in having these in stock and getting rid of the ones past the date. I went to get some at Raleys on June 14, and they still had a few from June 11. I have bought a couple with a current date but the squash was slimy…yuk! I also wish they were under $4.99 each of I would eat one every day…sometimes they are on sale for 3.99 but still expensive.

Carrie Says:


I have tried a few of the nourish bowls and love them all but the Sriracha one is my go to fav. 3 min in the microwave and I have a quick, healthy lunch.
My only complaint is the salt content. Anyway that can be lowered?

Jacob Shafer Says:


We're sorry to hear that you're unhappy with the salt content in our Sesame Sriracha Nourish Bowls (my favorite flavor, too). We are always looking for ways to improve our products, and we will pass along this feedback to our R&D team. You can always try the bowl with only half the sauce to lower the salt content. Enjoy!

Reba Says:


Love these! Super delicious and healthy. Really love the taste of the cauli/curry, but it smells HORRIBLE! You can smell it as soon as you put it in the cart at the grocery store. The first time I purchased, I thought I got a "bad" batch. I realize it's the cauliflower and curry, but just a warning (if you haven't tried)–it does NOT smell good!
Leave a Comment or Write a Review
Posting Policy
Bite of the Best encourages our readers to comment on and review any products that we write about. Please express your opinions in a mature and civil tone of voice. We will not post rude or otherwise inappropriate material on Bite of the Best. We look forward to your comments and reviews!