September 8, 2010
Varieties: Jarlsberg and Jarlsberg Lite are available in 22-lb wheels, 11-lb loafs (for deli slicing), random weight wedges and deli-fresh slice 8-oz packages (10 slices)
Details: $5.99 - $8.99 per pound, with discount promotions on a regular basis
Availability: Available in supermarkets, warehouses (Costco, BJ's, Sam's) and specialty cheese shops nationwide
Website: Visit the Manufacturer's Site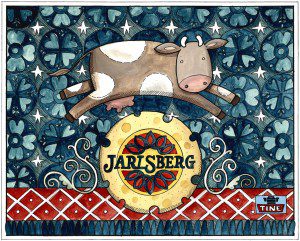 Jarlsberg, a product of Norway, is a semi-soft part-skim milk cheese, with large "eyes" and mild, mellow-nutty flavor. Traditionally produced and aged, completely natural Jarlsberg is lower in fat and calories than many other cheeses, it's also a source of protein and calcium. The cheese is classified as semi-soft part skim cheese but, because of the eye formation and the method of product, Jarlsberg has also been classified as a Swiss/Emmenthaler type cheese
Brisket & Cheese Slider
6 slider rolls, halved
Pomegranate jam
2 cups sliced onions and mushrooms, sautéed in a bit of butter and touch of sugar or honey, until just caramelized
6 thin slices cooked beef brisket
(cut to fit size of slider rolls)
½ pound Jarlsberg cheese
Spread inside of rolls with pomegranate jam. Top with onions and mushrooms, slice of brisket and Jarlsberg cheese. Form sliders and cover with foil.  Warm in preheated 325° F oven 15 – 20 minutes, until cheese melts.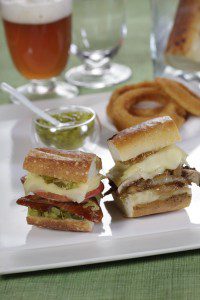 Spicy Sausage Sliders
6 slider rolls, halved
Honey mustard
Relish OR chopped cornichons
1⁄2 pound thin sliced, roasted spicy sausage: Chorizo, Italian or Kielbasa
1 large Fuji or Gala apple, cored and sliced thin
½ pound Jarlsberg cheese
Spread inside of rolls with layer of mustard and relish. Arrange sausage, apple and Jarlsberg on bottom half. Form sliders and cover with foil.
Warm in preheated 325o oven, 15 – 20 minutes, or until cheese melts.  Tip: To roast sausage, preheat oven to 425° F. Spray a roasting pan with olive oil, and cook sausage until well browned, about 25 minutes.
Jarlsberg Ham & Poppy Sliders
1⁄4 cup unsalted butter at room temperature
3 Tablespoons Dijon mustard
1 Tablespoon
Worcestershire Sauce
1-1⁄2 Tablespoons poppy seeds
1 small grated onion
6 slider rolls, halved
1 pound ham (thinly sliced)
1⁄2 pound Jarlsberg Cheese
Mix together first 5 ingredients.  Spread inside of rolls with butter/onion/mustard spread. Add slices of ham and Jarlsberg.  Form sliders and cover with tin foil. Bake in a preheated 325°F oven until warmed through and cheese melts, 15 – 20 minutes.

More information and recipes are available at www.jarlsbergusa.com
9 Comments on "Jarlsberg Cheese"
Marta Says:


is jarlsberg cheese produced with growth hormone?

ronnie campbell Says:


I checked directly with Norseland, US importers of Jarlsberg cheese and confirmed that it is produced only with hormone-free milk. Thank you for the excellent question. Ronnie Campbell – PR Representative for Jarlsberg

John T. Says:


Welcome to Norway, things might be expensive here, but you can be sure that all food is strictly controlled. We are among the best countries in the world at banning harmful and controversial substances.

Sara Hanna Says:


Jarlsberg is my favorite cheese, but I have a couple more questions:

1. Good to know that the Jarlsberg produced in Norway has no growth hormones, but are the cows from which this cheese come given antibiotics?

2. I've seen Jarlsberg Lite cheese (with the Norwegian label) produced in Ohio. Does this Jarlsberg Lite cheese from Ohio come from cows that are given growth hormones or antiobiotics?

Thanks for your response.

ronnie campbell Says:


Dear Sara: Thank you for your excellent questions. I'm checking on both to provide you with accurate answers and will get back to you shortly. Best, Ronnie (for Jarlsberg USA)

ronnie campbell Says:


Hi Sara: We received an answer to your question, as follows:

About Jarlsberg (milk used for its production) growth hormones (RBST) and antibiotics:

RBST – Norway – The use of growth hormones in not legal in Norway or any EU Countries. There has never been any known violation of this claim in Norway and we guarantee that to our knowledge all our products are free from all kind of growth hormones whether coming from the fodder or from medical treatment.

USA – The Jarlsberg produced in Ohio is under strict instructions to have milk supplied from dairies that can guarantee to supply milk that do not use RBST growth hormones.

Antibiotics – Yes – cows are treated with antibiotics for mastitis, which is an infection and resulting swelling of the udder and teats. When cows are treated they are taken out of the milking rotation. Before being returned to the milking rotation the cow goes through a flushing until their milk is tested over a period of several days and becomes free of antibiotics. Not only can antibiotics cause a problem for humans, it also can kill the cheese making bacteria. We test all milk and any milk found to have residual antibiotics is rejected and not received at the facilities.

Our Guide to Norwegian Breakfast Foods, In Honor of Joey Bada$$'s New Single | FirstWeFeast.com Says:


[...] Photo: Bite of the Best [...]

Josef-Peter Roemer Says:


Is the milk in the cheese grass fed?

Bonnie from BiteoftheBest.com Says:


Josef-Peter A spokesperson for the company asked me to
refer all Jarlsberg inquiries to http://www.jarlsberg.com/us/contact
or
norseland@norseland.com
Ask the company a question about this product
Be sure to also check "notify me of followup comments via email"
Posting Policy
Bite of the Best encourages our readers to comment on and review any products that we write about. Please express your opinions in a mature and civil tone of voice. We will not post rude or otherwise inappropriate material on Bite of the Best. We look forward to your comments and reviews!