Nationally available and online at the BiteoftheBest.com <a href="http://www.biteofthebest.com/shop.php?i=B00AQEW8Q4" target="_blank">shop</a>
$2.59 to $4.99 per 6.75-ounce bag
Good Health Natural Foods has introduced Veggie Chips that are excellent sources of  vitamins A, C, D, K and B6. These chip also contain nutrients from spinach, broccoli, carrots, beets and tomatoes.
Each 1-ounce serving contains 120 calories, 0.5 grams saturated fat (of 7 grams total), 240 milligrams sodium and 1 gram protein.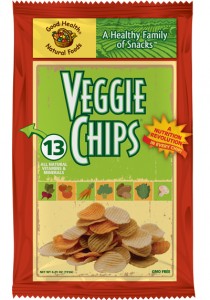 – Alyssa Tucker, Bite of the Best Intern: Veggie Chips didn't sound appealing at first, but I really enjoyed them. Even though they were not overwhelming with flavor, they satisfied my need for a crunchy, low calorie snack while being nutrient rich.