Various natural foods markets across the East Coast, Whole Foods in the Mid-Atlantic and online at the Bite of the Best <a href="http://www.biteofthebest.com/shop.php?i=B007VM0DFM" target="_blank">shop</a>
$4.79 per 6 ounce resealable package or $1.29 for 1.76 ounce individual packs of mini apricots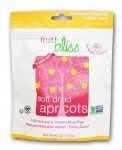 All natural, soft dried fruit that is preservative free, vegan certified and Non-Genetically Modified Organism Project verified, is now available from Fruit Bliss.
The dried fruits include apricots, plums and figs, with each 1.4-ounce serving containing between 83-110 calories,  and 1 gram protein. The individual pouches of mini apricots, about 1.75-ounces, contains 135 calories, and 1 gram protein.
– bonnie: These fruits have no added sulfites. Great for back to school lunches.