Nationally available
$3.99 per 9 3/4-ounce bag
Frito Lay has added Artisan Grilled Red Pepper and Tomato Salsa Tortilla Chips to it's already existing line of Tositios.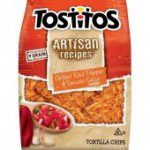 This new flavor is made with a nine-grain blend of real ingredients like ancho chile, smoked paprika, garlic, onion, roasted red bell pepper and more.
Each 1-ounce serving contains 150 calories, 1 gram saturated fat (of 8 grams total), 120 milligrams sodium and 2 grams protein.