November 29, 2012
Varieties: Sweet Coconut Caramel, Chocolate Meltaway Caramel, Almond Butter Toffee Caramel, Pecan Caramel Terrapin
Details: $8 per apple
Availability: Online

Edward Marc Chocolatier offers Granny Smith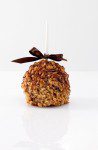 apples dipped in homemade caramel with an assortment of toppings — pecan, coconut, almond butter toffee and chocolate.  Varieties include  Sweet Coconut Caramel, Chocolate Meltaway Caramel, Almond Butter Toffee Caramel and Pecan Caramel Terrapin.
Each approximately 3.5-ounce serving contains 210-250 calories, 4-6 grams saturated fat (of 7-12 grams total) and 30-34 grams sugar.
One Comment on "Edward Marc Chocolatier's Fall Harvest Apples"
Nora Says:


Attractive section of content. I just stumbled
upon your web site and assert that I get actually enjoyed account your blog posts.

I'll be subscribing to newsletter!
Leave a Comment or Write a Review
Posting Policy
Bite of the Best encourages our readers to comment on and review any products that we write about. Please express your opinions in a mature and civil tone of voice. We will not post rude or otherwise inappropriate material on Bite of the Best. We look forward to your comments and reviews!