December 31, 2012
Varieties: Shrimp Alfredo, Shrimp Fried Rice
Details: $7.99-8.99 per 22-24-ounce package
Availability: Nationally available

Contessa World Cuisine has added Shrimp Alfredo and Shrimp Fried Rice to their line of frozen skillet meals for two that are ready in ten minutes.  Each is made without MSG (monosodium glutamate), trans fats, artificial colors, artificial flavors or preservatives.
Each 12-ounce serving — or half the package — of the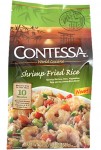 Shrimp Fried Rice with the packaged sauce added contains 350 calories, 1 grams saturated fat (of 3 grams total), 1280 milligrams sodium, 11 grams sugar and 20 grams protein;  without sauce contains 290 calories, 1 grams saturated fat (of 2.5 grams total), 360 milligrams sodium, 3 grams sugar and 18 grams protein.
The Shrimp Alfredo with the sauce contains 470 calories, 13 grams saturated fat (of 24 grams total), 800 milligrams sodium, 5 grams sugar and 19 grams protein; without sauce contains 240 calories, 0 grams saturated fat (of 1 grams total), 260 milligrams sodium, 4 grams sugar and 16 grams protein.
- bonnie:  I suggest only adding about half the sauce to each these frozen entrees, significantly reducing sodium in both,  the fat in the Alfredo and still providing lots of flavor.
Leave a Comment or Write a Review
Posting Policy
Bite of the Best encourages our readers to comment on and review any products that we write about. Please express your opinions in a mature and civil tone of voice. We will not post rude or otherwise inappropriate material on Bite of the Best. We look forward to your comments and reviews!