Nationally available
$1.49 per 355mL can
Crisp White, Ripe Rouge, Bright Citrus, Berry Cassis, Fresh Tropical
Fermented, natural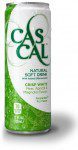 soft drinks crafted with natural juices and no added sugars are available from CASCAL in five flavors Crisp White, Ripe Rouge, Bright Citrus, Berry Cassis and Fresh Tropical.
Each 12-fluid ounce serving contains 60-80 calories, zero fat, 25-35 milligrams sodium and 10-16 grams sugar.
– Alyssa Tucker, Bite of the Best Intern:I enjoyed the crisp flavor of the  Bright Citrus variety. It's bubbly with a great balance of the the fruit flavors.