Nationwide
$3.49-$4.59 per package
100% Whole Wheat, Multi-Grain, Honey Wheat, 100% Whole Wheat Flax & Fiber, Whole Grain White, Seedless Rye
Weight Watchers endorsed Arnold,  Oroweat and Brownberry Sandwich Thins. (Arnold brand is in the East, Brownberry the Midwest and Oroweat  in the West.) The Sandwich Thins have a value of 3 PointsPlus per roll.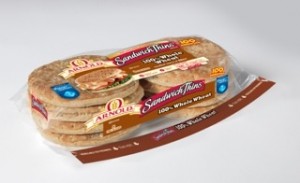 Each roll contains 100 calories, 0 grams saturated fat (of 1 grams total), 170 milligrams sodium, 5 grams protein, 5 grams fiber and is a source of whole grains. The 100% whole wheat varieties offers 20 grams of whole grain per roll.
– bonnie:  These 100-calorie rolls are great for those watching calories and wanting a sandwich.  I juse wish they'd reformulate them without the sweetener Stevia.