January 17, 2013
Varieties: 100% Whole Wheat, Multi-Grain, Honey Wheat, 100% Whole Wheat Flax & Fiber, Whole Grain White, Seedless Rye
Details: $3.49-$4.59 per package
Availability: Nationwide

Weight Watchers endorsed Arnold,  Oroweat and Brownberry Sandwich Thins. (Arnold brand is in the East, Brownberry the Midwest and Oroweat  in the West.) The Sandwich Thins have a value of 3 PointsPlus per roll.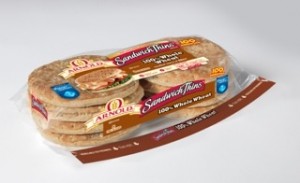 Each roll contains 100 calories, 0 grams saturated fat (of 1 grams total), 170 milligrams sodium, 5 grams protein, 5 grams fiber and is a source of whole grains. The 100% whole wheat varieties offers 20 grams of whole grain per roll.
- bonnie:  These 100-calorie rolls are great for those watching calories and wanting a sandwich.  I juse wish they'd reformulate them without the sweetener Stevia.
One Comment on "Arnold, Oroweat & Brownberry Sandwich Thins"
Jean Helmick Says:


Can I freeze "Brownberry Multi-Grain Sandwich Thins"?
Leave a Comment or Write a Review
Posting Policy
Bite of the Best encourages our readers to comment on and review any products that we write about. Please express your opinions in a mature and civil tone of voice. We will not post rude or otherwise inappropriate material on Bite of the Best. We look forward to your comments and reviews!