Online at www.AmorettiStore.com
$9.99 per 12-ounce jar
Gingerbread, peppermint, eggnog, pumpkin spice
Amoretti is featuring new icing flavors that include gingerbread, peppermint, eggnog and pumpkin spice.  The  icing is soft enough to spread yet stiff enough to pipe. It contains no preservatives.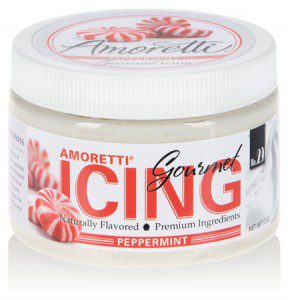 Each2-tablespoon serving contains 110-130 calories and 17-20 grams of sugar.
Angie Hwang, intern at Bite of the Best: I found that the icing very spreadable and soft making it easy to decorate desserts. The peppermint icing isn't overly sweet and has a natural and subtle flavor.