Early this fall, Bite of the Best special correspondent Robbin Seipold wrote about the opening of Yolanda's Bistro in the space formerly occupied by the Central Steak House on Orange Street. I decided to try it for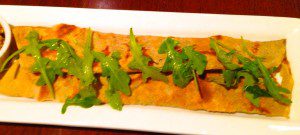 brunch.
As you walk through the door, you are greeted warmly by Yolanda welcoming you into her new restaurant as if it were her home. You can't miss the brightly lit open kitchen as you enter the restaurant.
We started with Bloody Mary's, that needed a bit more Tabasco for a kick even though the restaurant uses their mix, $8 (heavy drinkers note: bottomless available for $17.50)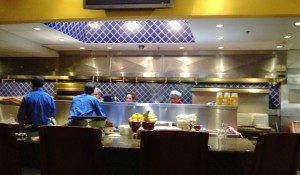 I was with my friend who is celiac, can't have gluten and was thrilled that the savory crepes (galettes) were made with naturally gluten-free buckwheat and oat flours. She tried the one filled with Roquefort ($9) pears, walnuts and ham; I sampled the chevre, candied bacon and topped with arugula, asking for the walnuts on the side. The crepes are tasty, but not substantial enough for someone with a hearty appetite.  For a light bite, they are perfect.
Yolande's Bistro & Creperie
99 Orange
New Haven, CT
(203) 787-7885