I knew I'd be in Philadelphia attending my friends' wedding at the Atrium of the Curtis Center, so I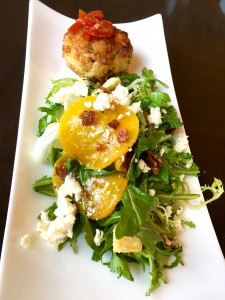 checked around with the food publicists to see who handled Philly and whether there was a place I could review. Bingo! That's how I ended up on the nineteenth floor of the Hyatt At The Bellevue for lunch the day after the amazing nuptials celebration.
The dome-shaped room with magnificent views of the city of brotherly love is pretty much as it was when built in 1904, although it was renovated with warm tones in 2006. We were told to be careful about what we discussed as the dome effect allows those on the other side of the room to hear what's said across the room!
We opted to pass on the cafe lunch table ($22) with salads, cheeses and desserts plus a choice of an entree, and ordered from the menu. We split both the signature XIX salad ($11) and a jumbo lump crab cake ($16) to start. The waitstaff knowing we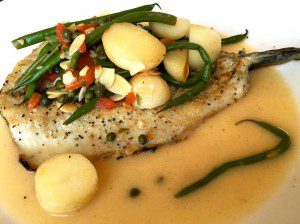 were splitting everything offered to divide the two in the kitchen. Perfection!
The salad of arugula, frisee, thinly sliced golden beets, crumbled Maytag blue cheese, finely diced Neuske's applewood smoked bacon and whole walnuts in a light lemon truffle dressing is not to be missed. Neither are the two crunchy on the outside almost nothing but crab inside, little cakes sitting on a light mustard dressing, topped with a sweet tomato pepper jam.
Everything was perfect up until the point where the waitress (not the waiter who had taken our order) placed our entrees on the table while we were still eating our appetizers. Faux pas. The freshly sautéed Pennsylvania lake trout ($24) in it's brown butter sat there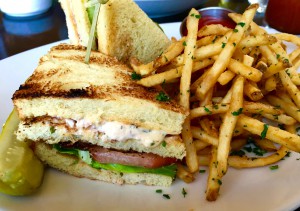 while we tried to finish our apps. So that the fish and veggies wouldn't get cold, we let the server take our unfinished wonderful starters away.
Sadly the trout was our least favorite of the foods we tried; the Yukon gold potatoes were too hard to eat, the green beans overcooked and the trout not well seasoned, even though it was drizzled with a brown butter and topped with sliced almonds and capers.
What was much more appetizing was the Maine lobster club sandwich on toasted brioche – both the diced Neuske's applewood bacon the the tarragon mayo added to its rich flavor. We opted for a side of crispy truffle shoestring fries, which I'd suggest.
I would recommend dining here and savoring the food and the view.
– bonnie
Hyatt At The Bellevue
200 S Broad Street
Philadelphia, PA 19102
(215) 790-1919