LAST CHANCE to win a Soda Steam to make the freshest, fizziest sparkling water at the touch of a button. No more lugging or storing bottles and cans from the store. No more empties to recycle or dispose of. You control the fizz.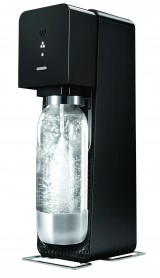 Every two months 1 winner will be chosen at random to receive a receive a SodaStream Source Starter Kit in choice of white or black. Retail Value $99.95. Only available in the US.
You need to enter every other month for a chance to win!
To enter, just click the "Take a Chance" link below — a link that you'll see only if you're signed in as a registered user. This contest closes for good at midnight December 31, 2014, Eastern.