And here are some whole-grain recipes, adapted from The Oldways Table with essays and recipes compiled by Dun and Sara Baer-Sinnott.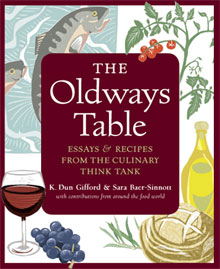 Quinoa and Orange Salad (based on one by Elisabeth Luard) Cook 1 pound quinoa according to package directions. Combine the warm quinoa, 1 diced cucumber or chayote, 6 minced scallions, 1/4 c minced parsley, 1/4 c minced mint, zest and segments from a fresh orange, 2 seeded and chopped jalapeños, 6 T olive oil, 2 T lemon or orange juice and sea salt to taste in a large bowl. Taste and adjust seasoning. Serve warm or cold. Makes 4 to 6 servings.
Rice and Lentil Salad (based on one by Ellen Eckler Ogden) Cook 1 c brown or wild rice blend and 1 c French lentils separately according to package directions. Whisk together 1/2 c extra-virgin olive oil, 1/4 c lemon juice and 1/4 c red wine vinegar for a vinaigrette dressing. Stir in 2 minced garlic cloves. Combine the cooked rice, cooked lentils, the dressing, 6 coarsely chopped scallions, and 2 c diced tomatoes in a bowl. Refrigerate. When ready to serve toss with 1 c crumbled goat or feta cheese and 2 c chopped fresh arugula. Makes 6 to 8 servings.
Bulgur Pilaf with Toasted Noodles (based on one by Paula Wolfert) Cook 1/2 c broken vermicelli in 3 T butter in a saucepan, stirring often, until golden—about 5 minutes. Stir in 1 t salt and 1 c coarse-grain bulgur. Add 1 1/2 c boiling chicken broth and let boil 3 minutes; reduce heat, cover and let simmer 10 minutes or until all the liquid's absorbed. Place a double layer of paper towels on the grains, recover, remove from heat and let stand 10 minutes. Heat 1 T butter, add 1/2 t freshly ground black pepper and let sizzle. Pour over bulgur mixture and serve. Makes 4 servings.