I had forgotten about this delicious refreshing salad until I saw it in a recent Oldways Mediterranean Foods Alliance newsletter. Each Friday the organization shares a recipe that reflects the Mediterranean diet. (To learn more about that way of eating just click here.) Serve that to accompany any grilled meat, fish or poultry.
Watermelon and Feta Salad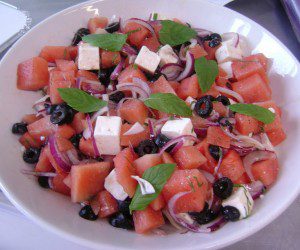 1/3 cup extra-virgin olive oil or fiery chili-infused extra-virgin olive oil
Juice from half a lemon (or lime)
Salt and freshly ground pepper
1 medium watermelon, cut into 1- inch cubes
1 cup pitted Kalamata olives
10-ounces feta cheese, cut into cubes
1/3 cup paper-thin slices red onion
1 cup chopped fresh mint, torn
Whisk together the olive oil, lemon juice, salt and pepper to make the dressing. In a large bowl combine the watermelon, olives, feta cheese and onion. Add the dressing and toss gently until evenly coated. Fold in the mint leaves. Makes 6 to 8 servings.
Adapted from Mediterranean Foods Alliance newsletter
– bonnie