Consider taking a day off of the slopes when in the Park City (UT) area to learn some the history of Main Street while tasting the fare of several restaurants. Local resident Shirin Spangenberg hosts Park City Food Tours where you'll hear how the town has gone from mining to di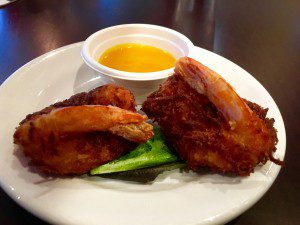 ning — of course, sampling some goodies — while walking down the picturesque historic Main Street. If you're tired from your day's activities, there is a free trolley to take you back up the street.
Our first stop…
Owner Greg Schirf, owner of Utah's first microbrewery and brewpub, brought the business of brewing beer to Utah. At the Wasatch Brew Pub, we sampled coconut covered shrimp with a mango-apricot dipping sauce spiked with a little Tabasco to give it a kick ($12).
For the participant with a mango allergy, they served their muhammara – a dip made from red peppers, roasted tomatoes, walnuts and honey with feta served with crostini.
– bonnie
Wasatch Brew Pub
Park City
250 Main St
Park City, UT 84060
(435) 649-0900