Virginia Willis and I befriended during a press trip to France more than a decade ago. It was an unusual trip that included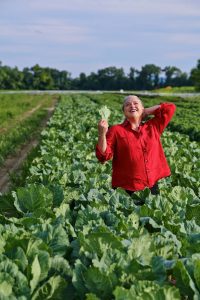 only one other journalist. We three started in Dijon, trained to Paris and then were let let loose, basically with the company credit card. I recall us savoring a 5-hour multi-course lunch with matching wines at Le Grand Véfour.
Since that time I've watched her career soar. She's authored Bon Appétit, Y'all; Basic to Brilliant, Y'all; Okra; Grits and — her just published — Lighten Up, Y'all. This most recent book celebrates the healthy and wholesome side of Southern fare. Virginia now practices what she's preaching.  By following her lightened way of eating, she's lightened up by 35 pounds.
Virginia, who's a fellow Dame (actually she's a past president of the Atlanta chapter of Les Dames d'Escoffier, a philanthropic society of professional women leaders in the food industry) has worked with some of the best. She's cooked for President Clinton while kitchen director for Martha Stewart, apprenticed for Nathalie Dupree's TV cooking show and learned from Anne Willan at LaVarenne.
I caught up with her recently as she was on book tour, to get her to respond to our Guest Foodie queries.
– bonnie


Follow @BonnieBOTB
Which food product or gadget would you never give up? I could never give up my German chef's knife! Whenever I'm cooking at a friend's house or guest cooking in a restaurant kitchen using a less quality knife, I'm always amazed at how much more challenging it is to work with an inferior knife. My 10-inch gets the job done!
What do you like to serve when you entertain?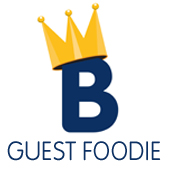 Honestly, we keep it pretty simple when we entertain.Well, I consider it pretty simple for being in the food business! I always put out some simple nibbles for cocktail hour and most often it's something homemade like gougeres or my lightened up pimiento cheese with cucumber slices and celery sticks. However, sometimes life gets a little complicated and I might need to put out a store-bought hummus or a maybe some smoked fish. Usually, I'll create a cocktail or mock tail that fits with the season. In the fall and winter that might be a bourbon-based drink and in the summer perhaps a blueberry lemonade. I make sure the non-alcoholic base tastes good with or without alcohol so folks can enjoy it either way.
In early spring, like now we're already having some pretty warm spells in Georgia, but there's still a nip in the air, so I'll serve a ginger lemonade with seltzer. In terms of the food, I usually will serve 3 courses: an appetizer like a soup or salad, main course, and a light dessert. I try to work with the seasons and usually develop my menu at the grocery store or farmer's market depending on what's fresh. We're already getting in early strawberries in GA so my lightened up brown sugar shortcakes will most certainly be on a dinner party menu very soon! We keep the decor pretty simple, too. Just a low vase of fresh flowers on the table – low so that folks don't have to play hide and seek! I'll often plate up the 1st course then serve the main course family style — it depends on how cheffy I want to be. At the end of the day, it's all about being with friends and family.
Describe your "last meal?" Ha! Can I say that it would depend on what season it might be? No, I have to be truthful, even thought I insist that Southern food is more than fried chicken and even thought I'm all about promoting healthy Southern food, I think I might have to say fried chicken! Along side that I'd want to have what we'd call Sunday supper: fresh sliced tomatoes, butterbeans and rice, okra, cornbread, corn on the cob with peach cobbler for dessert. That meals means home to me, and if I'm getting "called home" I couldn't think of a better send off!
What food is your secret guilty pleasure?I really don't like to think of food as a guilty pleasure. In all honesty, that really doesn't work. It's okay to have cake, chocolate or fried chicken – we just can't eat it all the time in unlimited quantities and, if you do "indulge" in what might be called a "guilty pleasure" it's really important to get up off the couch or from behind that desk and MOVE! It's not about guilty pleasures for me as much as it is about making smart choices.
What is your go-to neighborhood restaurant?)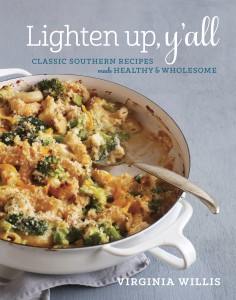 I travel so much and eat out so often that my favorite neighborhood kitchen is my own!! Actually, there is an area of town in Atlanta called Buford Highway that's incredibly multi-cultural. There's Peruvian ceviche, korean BBQ, Szechuan noodles, Mexican tortas, Indian curries… It's pretty amazing. I love to eat there. I love being exposed to all the different cuisines, it's cheap and cheerful, and just really fun.Buford Highway is my go-to place when I'm dining out in Atlanta.
What is one food product most people don't know about, but should? I have become a big fan of smoked paprika, the finest of which is called pimienton, which is a Spanish spice. The peppers are harvested and slowly smoked over oak fires for several weeks. The smoked peppers are then ground into a powder.I love the plant-based smoky flavor. It adds a whole new level to vegetable dishes and really elevates recipes like roast chicken or turkey paillards, as well. It does what bacon does, but is a lot more healthy.
Describe your worst kitchen disaster and how (if possible) you saved it: Lordy mercy, where to start? Being a good cook is all about practice and dedication, so that inevitably leads to some mistakes along the way. We don't expect to be able to sit down at the piano and play a masterpiece or walk onto the tennis court and ace our opponent, but there's often a misperception that we should automatically be able to whip up a batch of biscuits or pop out a soufflé. Having said that, I did a restaurant dinner in Massachusetts when Bon Appetit Y'all came out and I scorched the grits. I was horrified.You can't hardly mask the taste of scorched grits. So, I immediately transferred the grits to another pot without scraping the bottom and pumped up the spice. It was a close call, but I pulled it off.
Who was your most influential mentor?ah, I've had so many and each one has been different. Nathalie Dupree took me out of my mama's kitchen and exposed me to food I didn't know, Anne Willan shares with me French techniques and how to write a recipe, and lastly, Martha Stewart taught me the importance of doing the best job possible and striving for perfection. Each mentor shared their own strength with me and I am most grateful.
To follow on Twitter, click here.